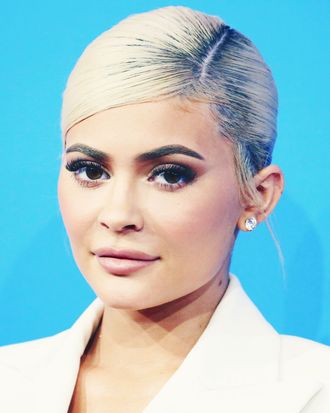 Photo: Matt Baron/Shutterstock
Kylie Jenner may be the youngest billionaire to ever walk this godforsaken planet, but owning a makeup empire worth $900 million just ain't enough. Jenner might very well be on her way to launching her own booze brand. Watch out, Bethenny Frankel!
Jenner, who said in a 2017 interview with BuzzFeed that her 21st birthday (which happened in August 2018) would be the first time she tried alcohol, must have really liked it if she's willing to put her name on it.
As TMZ reports, Jenner filed trademarks for various alcohol-related products, such as spirits, liquor, wine, alcoholic cocktail mixes, prepared alcoholic cocktails, and prepared wine cocktails, which opens a world of possibilities. Is Kylie Rosé is on its way? Kylie Vodka? Imagine knocking back a shot of Kylie Tequila. And while her sister Kim Kardashian West is famously known for avoiding alcohol, she'll still be able to enjoy a Kylie-branded beverage, as Jenner trademarked nonalcoholic cocktail mixes, soft drinks, and bottled water.
Jenner also filed a trademark for restaurants, bars, and cocktail lounges. You know what that means — now that Lindsay Lohan's Mykonos-based beach club has apparently been shut down, we're going to need a replacement. It's the perfect opportunity for a new reality show called Kylie Klub!
Jenner actually filed for a variety of trademarks recently, not just ones related to alcohol. There are currently Kylie trademarks for products that are not too surprising, like hair accessories, but also items like bed linens, kitchen appliances, candleholders, and baby carriers.
You've gotta hand it to her, Jenner is a savvy businesswoman. She's turned Kylie Cosmetics into a globally successful brand, and if she ends up selling the company to Coty, which she's rumored to be in talks with, she'd become even richer. In the meantime, I'll be over here waiting for Rihanna to come out with Fenty wine.