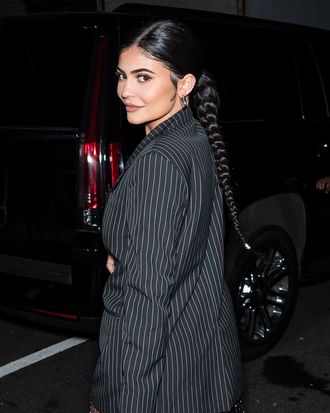 Kylie Jenner.
Photo: Gilbert Carrasquillo/GC Images
Every weekend, one of the Kardashian-Jenner clan spends their Saturday doing something that sounds, to me, like the least amount of fun possible. I'm becoming quite smug about it. Last weekend it was Khloé Kardashian going to the prom of a genuine teen. This weekend, it's Kylie Jenner attending and possibly orchestrating a Handmaid's Tale–themed birthday party for her friend.
On Saturday, a flurry of Instagram Stories announced that Kylie Jenner was at a party with an aesthetic based on the 1985 sci-fi thriller by Margaret Atwood, which imagines a nation where some women are enslaved and brutalized (forced into surrogacy) to maintain the society's rigid nuclear family structure. In 2017 the book was adapted into a TV series starring Elisabeth Moss. Interesting way to celebrate … birth.
Hollywood Life reported on Sunday that Kylie threw the party for her friend Anastasia Karanikolaou's 21st birthday party. Sofia Richie was also there. Kylie decked out her house in red for the occasion. Metro reported that Kylie captioned an early Instagram Story video of the party with, "You know The Handmaid's Tale is my favorite show ever … so for Stassi's birthday … welcome to Gilead."
In a video posted to Instagram, Kylie can be seen greeting some partygoers as they travel up her birth canal-chic driveway with a friendly "Praise be, ladies. Welcome, welcome! We're gonna watch the first episode!" Three episodes of The Handmaid's Tale's third season premiered on June 5 — perhaps this is all an elaborate pretense to Hulu and chill?
The dystopian baby-harvesting theme did not go over well on Twitter, especially given the very real and harmful anti-abortion measures that have swiftly spread across the country and have grown even more restrictive in the past month.
The backlash continued on Tuesday when Handmaid's Tale actor Bradley Whitford was asked during an interview with CBS's The Talk to comment on the party. Whitford responded, "I don't know, it seems a little tacky?" He went on, "That costume is so kind of iconic, and it's interesting how it's changed from initially a symbol of oppression to now, as the show is moving ahead, to a symbol of resistance. So yeah, a cocktail party seems to sort of dash all that significance."
Praise be, a party I was not invited to.
This post has been updated.