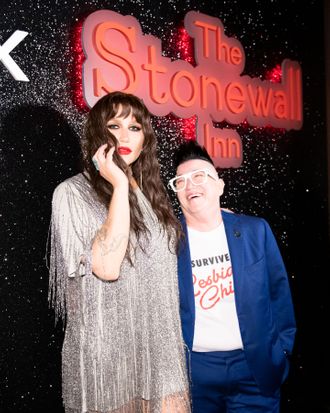 Kesha, Lea DeLaria.
Photo: Darian DiCianno/BFA.com
A lot of brands are going to be paying lip service to Pride this month, but Saks has gone a step further, pledging a minimum of $100,000 to the Stonewall Inn Gives Back Initiative in June. At a party last night celebrating the partnership, go-go dancers shimmied, acrobats performed in a heart hanging from the ceiling, and Kesha performed "Your Love is My Drug," "Praying," and "We Are Who We Are," which she said was always intended to celebrate queer people.
The night was hosted by model Leyna Bloom, Broadway star Telly Leung, and actress Lea DeLaria. Asked about her perspective on the 50th anniversary of the Stonewall uprising this year, DeLaria said she watched the 1969 riots unfolding on TV when she was a tween. "At that time in the '60s, every news show was showing either a riot or the Vietnam war. But this one struck me because I knew I was different and I knew who I was," she told the Cut. Her prediction for this year's pride parade in New York: rage, riots, and great signs.
"There are a lot of pissed off queers. I think the 50th pride might also be a riot," she said. "I'm not saying we're going to fight or turn over police cars, although I wish we would, I think we're going to see way more of a protest this year because the current administration has done to strip us of our rights, including what that orange turd just did to trans people this week."
She says she's looking forward to the protest and, more specifically, the "hilarious signs, because that's what queer people do. Sarcasm is our national language."