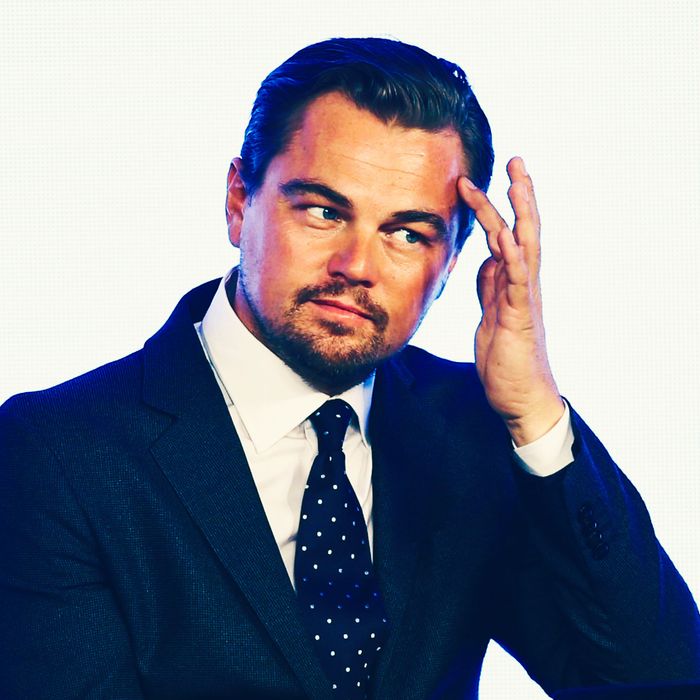 Leonardo DiCaprio.
Photo: VCG/VCG via Getty Images
Summer, that enchanted kingdom of enduring innocence — where cold shoulders are brought about by Super Soakers, where adults make out with rainbow-sprinkled ice cream, and the only pick-me-up one needs is a bump of the volleyball — has long been Leo DiCaprio's domain. The man's love of summer has been well-documented, including his penchant for beach sport with fellow celebrities. He's been spotted snorkeling in August and lollygagging atop CitiBikes in June, to say nothing of the yachting, swimming, and yacthing-slash-karate-kicking.
Yet we were not even a week into the season when the unthinkable happened: summer turned on Leo.
TMZ reports that over the weekend DiCaprio was getting up to bit of beach volleyball in Malibu with what the tabloid calls his "'Bu Crew" (like the Pussy Posse but for hot weather?) including Robin Thicke and an unidentified woman, when he missed a return in dramatic fashion. In the TMZ images, which you can view here, he appears almost in napping position, arms above his head, a single tensed leg, yet he is clearly taking a volleyball to his face, which has turned to the side in avoidance of the inevitable blow. Summer is a cruel cruel mistress, bonking the Oscar-winning movie star on the head.
What else do these sweltering months have in store for Leo? Well I could speculate upon the water-gun misfires, the yacht pratfalls, the ocean's revenge. But all I can say for sure is that he'll grow a little bit older.