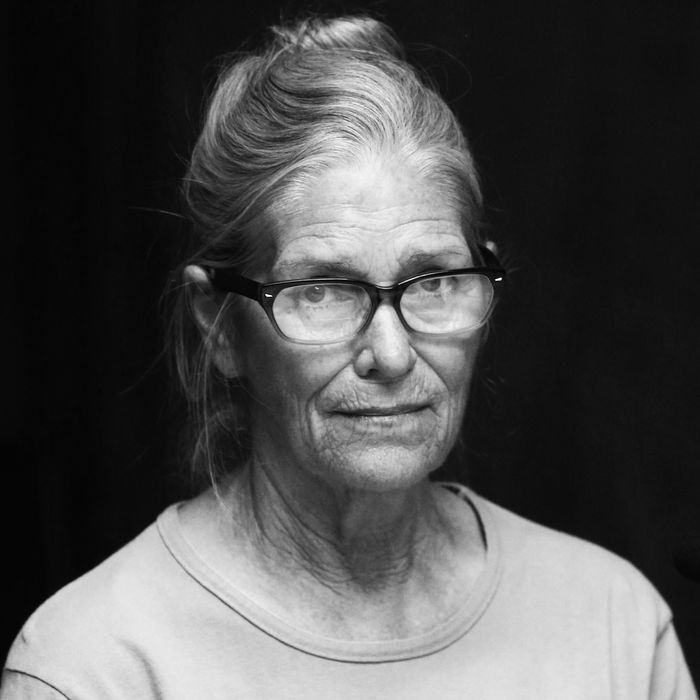 Leslie Van Houten.
Photo: Stan Lim/AP/Shutterstock
Former Manson family member Leslie Van Houten, 69, who was convicted of murder for her role in the 1969 killings of Leno and Rosemary LaBianca, was denied parole on Monday for the third time in three years.
In a parole release review, California governor Gavin Newsom overruled the parole board's January recommendation that Van Houten — who, as CNN notes, has been behind bars for half a century, and received bachelor's and master's degrees in prison, as well as participated in "extensive" self-help programming — be released. Newsom wrote in his decision that while he commends Van Houten "for her efforts at rehabilitation," and acknowledges "her youth at the time of the crimes," he is concerned about her potential for future violence.
"Ms. Van Houten and the Manson family committed some of the most notorious and brutal killings in California history," Newsom said. "When considered as a whole, I find the evidence shows that she currently poses an unreasonable danger to society if released from prison at this time."
Van Houten was 19 when she first met cult leader Charles Manson in 1969, and became a member of his murderous Manson family. On August 10, 1969, she and other cult members killed Leno LaBianca, a wealthy Los Angeles grocer, and his wife, Rosemary, stabbing them repeatedly and smearing their blood on the walls. Manson and his followers, including Van Houten, were sentenced to death for their crimes in 1971, but following the California Supreme Court's 1972 decision ruling capital punishment unconstitutional, their sentences were commuted to life in prison.
This is the third time in as many years that the California parole board has recommended Van Houten be released, and the third time their recommendation has been overturned. Her two previous parole recommendations were overturned by former California governor Jerry Brown.
Newsom's decision didn't surprise Van Houten's lawyer, Rich Pfeiffer. The attorney told the AP, "Nobody wants to put their name on her release, but when they're speaking honestly or off the record, everyone wants her to go home."
Newsom, he added, is "going to have more political aspirations that go well beyond the state of California, and he doesn't want this tagging behind him."
Pfeiffer is still hopeful, though, and believes Van Houten's best chances for release are in the appeals court. "They are bound by law to enforce the law independently. They have to do it whether or not it's popular with the public … and the law is that she should be released."