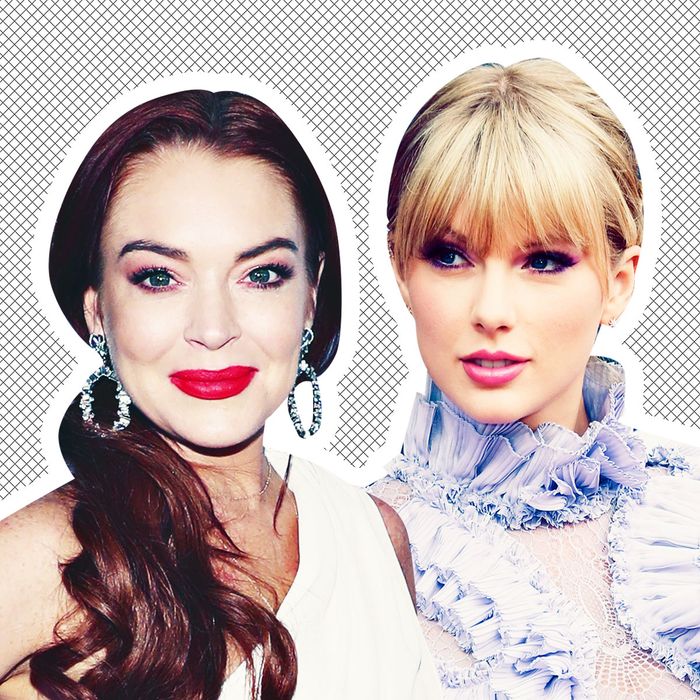 Lindsay Lohan and Taylor Swift.
Photo: Getty Images
Until recently, "ME!" singer and rumored suitcase traveler Taylor Swift had a tendency to keep mum about the issues of the day. This changed back in October, when she shared an Instagram post endorsing Tennessee Democratic candidates in the 2018 midterm elections. It remains to be seen, however, how long will it take the new, politically engaged Taylor Swift to speak out on one of the most pressing issues facing our country right now — Lindsay Lohan's mom's role in the musical Cats.
On Thursday night, Swift went on Instagram Live to announce her upcoming album, Lover, and to drop her new single, "You Need to Calm Down", Over 100,000 fans tuned in, including beach club owner and Lawyer.com spokesperson Lindsay Lohan, who wrote several comments during the announcement. First, she sent a heart eye emoji. Then, to underscore the heart eyes, she wrote, "We think you're great." When her admiration went unnoticed, she typed, "You should respond!" and then, "To your fans!" And finally, to conclude, Lohan told Swift, "my mom was in cats."
Lohan probably thought this would pique the interest of Swift, who is playing Bombalurina in the upcoming film adaptation of Cats. Unfortunately, Swift didn't seem to notice. Or, if she did, she did not respond.
Perhaps Swift's reluctance to make a statement about the matter stems from the fact that there doesn't seem to be any record of Lindsay Lohan's mother, Dina, appearing in the musical Cats. Was it a community production? A school play? The original cast production in 1981? We eagerly await more information on the matter, as well as Swift's official position.
In the meantime, hopefully Lohan got some tips from Swift on how to do an Instagram Live without getting punched.