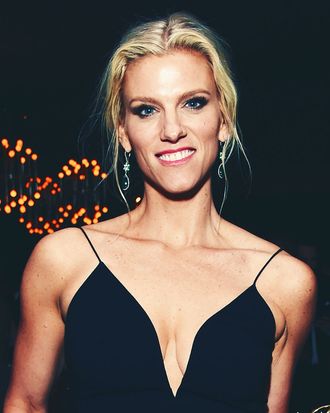 Lindsay Shookus.
Photo: Michael Kovac/Getty Images for Netflix
On Tuesday, Saturday Night Live producer and former Ben Affleck iced coffee partner Lindsay Shookus turned 39 (a Gemini). Congratulations! To celebrate, Shookus started the day with an 8 a.m. SoulCycle class in Cannes, where she is attending the Cannes Lion festival. And according to "Page Six" none of her fellow spinners had any chill.
During the packed morning class, SoulCycle CEO Melanie Whelan reportedly wished Shookus a happy birthday, and after the producer expertly "tapped it back" (here's a video of a woman named Lisa demonstrating tap backs, if you're curious) an instructor "presented her with a fruit and yogurt plate, complete with a sparkler, in honor of her birthday." (Here's a picture of yogurt, and one of a sparkler like the one Shookus was presented with, if you're curious.)
Although an 8 a.m. spin class, a face full of fire, and a plate (?) full of yogurt (hopefully it was in a little bowl on the plate, but I can't say for sure from the picture) does not sound like a dream birthday to me, personally, it sounds like Shookus enjoyed the morning, and there were no reports of her suffering facial burns after the instructor seemed to shove the sparkler dangerously close to her face. Per "Page Six", spinners wore headphones to "listen to pop beats in a silent-disco style," and at one point, Shookus, along with everyone else, belted out the chorus of Pink's "What About Us," which goes:
What about us?
What about all the times you said you had the answers?
What about us?
What about all the broken happy ever afters?
Oh, what about us?
What about all the plans that ended in disaster?
Do you think she was thinking about Ben Affleck while she sang? Or about her birthday yogurt?