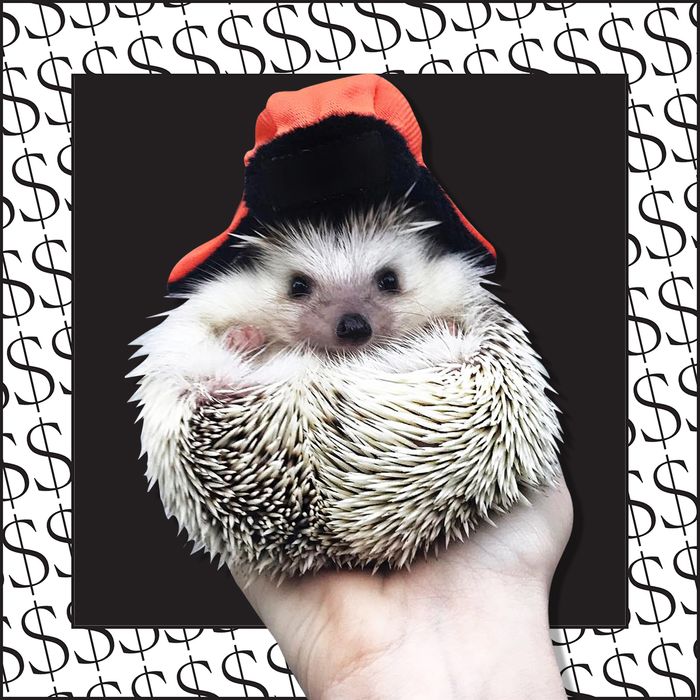 Photo-Illustration: by Stevie Remsberg; Photo: lionelthehog/Instagram
When Anna Mathias got her first hedgehog, Lionel, in April 2015, she had no intention of turning him into a social-media phenomenon. Four years later, Lionel and Lilo (Anna's second hedgehog) have become lucrative animal influencers with over 100,000 followers, a portfolio of brand partnerships, and an online shop that sells T-shirts and other swag. Thanks to the hedgehogs, Anna makes around $2K per sponsored post and has been able to furnish her home in Charleston for free. Here, she talks about putting her hedgehogs on her résumé, why she's grateful to Joe Jonas, and the ins and outs of monetizing cuteness.
So, why hedgehogs?
I got our first hedgehog, Lionel, in April 2015. The original owner didn't want him anymore and was looking to rehome him. At the time I wanted a dog, but a hedgehog seemed like a good alternative, especially since I was still in college. I'd never even met a hedgehog until I physically picked up Lionel to bring him home. I bought my second hedgehog, Lilo, from a breeder up in Asheville. I saw her online and decided to get her that same day. They cost more than, say, a hamster, but they're pretty affordable overall. They eat cat food and mealworms for treats. You can get a bunch of mealworms at a pet store for about $3. You keep them in the fridge, which is gross.
What are hedgehogs like as pets?
They sleep about 22 hours a day, and they do get grumpy sometimes. They don't like it if you wake them up at the wrong time, for example. And they're not like dogs — they don't just want to cuddle. The amount of affection they give you is basically equivalent to a guinea pig. Some people are disappointed by that, but I love them — ours will lie on their backs and let us rub their bellies. It can also take a while to bond with them. When you first get a hedgehog, you're supposed to put a worn T-shirt in their cage so they get used to your smell. I get a lot of DMs from people asking me why their hedgehog hates them. And I'm like, "You just have to be patient!" Some people have told me that they got a hedgehog because of Lionel. I spend a lot of time managing hedgehog expectations.
When did it occur to you to get into the pet influencer world?
When I first got Lionel, I had no idea what an animal influencer was. Zero clue. I started posting a lot of photos of him on Instagram because he's so cute and I was excited about him. Then I made him his own Instagram account mostly as a joke. It grew organically for a while, and then it snowballed after another animal account reposted one of my photos and Joe Jonas saw it. Joe followed Lionel and reposted a photo of him in an ice-cream cone, and that got us thousands of followers really quickly. Then there was an article on BuzzFeed, "21 Reasons to Follow Lionel the Hedgehog," that went viral. After that, Instagram's Instagram account posted a photo of Lionel in a tiny chair, and we got about 24,000 followers in 24 hours. All those things happened over the course of about a year, so it wasn't overnight.
The first paid partnership we did was with West Elm. They did a Christmas series with different animals, and they made a Lionel tree ornament and a Lionel tea towel. When I saw the contract, I was like, "Wait, is this my money?" And they were like, "Yeah." I think it was around $1,200. I had just graduated from college and it seemed like a lot, but now it's pretty standard. I went to a West Elm store when the products came out and I was like, "That's my hedgehog!" I told this couple that was standing next to me and they didn't care. They were like, "Oh. We like the cat better."
What does a post with Lionel or Lilo go for these days?
After Lionel was nominated for a Shorty Award in the animal category, I realized that we could be charging more. We didn't win, but he was a finalist. Right after that, I got contacted by three ad agencies that wanted to work with us. The briefs they sent were basically double anything I'd ever seen, like over $2,000 just for one Instagram post. I was like, "Oh, okay. I see how this works now." Last year, I made about $8,000 or $9,000 total, but it changes.
You also have a day job. Do your co-workers know about your hedgehogs?
Yeah, I do social media at a bridal company. I actually got my job through a DM on Instagram. I also put Lionel on my résumé. Which sounds ridiculous, I know. But I think it shows that you can take anything and turn it into a character online and give it a persona and build a brand from nothing. Anyone who's grown anything online should be proud of it, even if it is a hedgehog.
Do you ever worry that the hedgehogs don't like getting photographed? Anytime they're not in the mood, we just don't shoot. We only shoot when they're awake and happy. You can definitely tell the difference. When they're grumpy and tired, they roll up and just sit there, like a ball of spikes with their head hidden, and they won't come out. Mine don't do that often. But it happens. If it takes longer than five seconds to get a shot, I'll be like, "We're done."
Does it ever feel weird to make money off your pet?
I used to call myself the Kris Jenner of hedgehogs as a joke. But the way I think of it, it's more that we're making money off our creativity than our pets. We'd never force a photo. We just do it when we get a fun idea. We'd love them just the same, whether or not they were famous on Instagram. Other influencers take it a lot more seriously than we do. Like, Doug the Pug's killing it. His owner does it full time. But for me, I think it will always be something I do on the side. Sometimes it's super-lucrative and then other times you don't hear anything for months, so that's not great securitywise.
What makes for a really successful Instagram post?
Honestly, all people want to see is Lionel or Lilo curled up in a ball in front of the camera. It could be any background. Little props help. I also try to integrate anything that's current. Like, when that egg post went viral, I took a picture with Lilo holding an egg, and it's my most-liked photo ever, which is infuriating but also funny. It has over 22,000 likes, and it's just an egg from my refrigerator.
Does Lionel get invited to a lot of events?
Yeah, but the downside to having a famous hedgehog instead of another animal is that you can't bring a hedgehog on a plane. When we went to PetCon in New York, I called every airline and they all said no. And then it turned out that hedgehogs cannot be kept as pets in New York City (they fall under the "exotic animal" category, which is very broad). So my fiancé and I just showed up at the conference without them. We made T-shirts with Lionel on them and someone was like, "Oh my gosh, are you guys staying for the hedgehog? He's going to be here." And we were like, "We ARE the hedgehog!"
This interview has been edited and condensed.