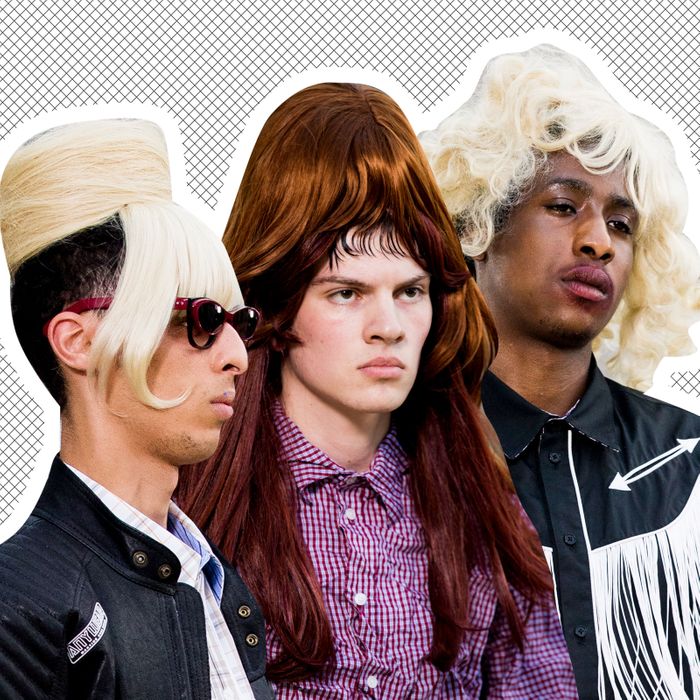 Three fun wigs on three male models at Martine Rose spring-summer 2020.
Photo: Getty Images
Men's Fashion Week spring-summer 2020 just went down in London, and for once, there's a veritable beauty trend to report on because a bunch of guys wore wigs down the runway. Chaka Khan, this year's Oscars stage, Cardi B, and Lizzo's hair stylist have all done their part to open up the conversation around openly and proudly wearing wigs over your actual hair. It seems to be paying off because now dudes are jumping onboard.
At Paria Farzaneh, models wore creepy fake faces that would make excellent serial-killer masks, but they were framed by smooth wigs in a very on-trend lob cut and bangs accented with shimmery tinsel streaks throughout. At Kiko Kostadinov, models wore their actual faces with wigs that were a fun mash-up of hair trends including 17th-century curls, center parts, and dreads.
But the most fun wigs walked at Martine Rose, where models' heads were topped with a true range of fake hair — a big, bouncy bouffant, bleached curls, an orange bob, and so many bangs. The best part was that not one of these wigs was trying to trick anyone — they all looked nonchalantly put on, often revealing models' actual hair, truly epitomizing effortless-looking hair that we all strive for by putting in way too much effort.
In short, the runways have spoken, and yes, a wig would be a perfectly acceptable last-minute gift for any guy you forgot to shop for, for Father's Day.