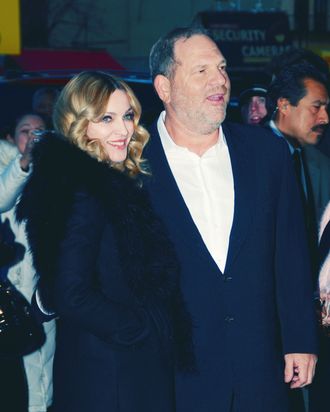 Madonna and Harvey Weinstein.
Photo: Paul Hawthorne/Starpix/Shutterstock
We can add Madonna to the ever-growing list of performers who have publicly spoken about disgraced Hollywood mogul Harvey Weinstein making inappropriate advances (and he's been accused of far worse).
In an interview published by the New York Times Magazine on Wednesday, Madonna said that Weinstein "crossed lines and boundaries" with her while they were working together (Mirimax, which Harvey owned at the time with his brother, distributed Madonna's 1991 film Truth or Dare). Madonna said Weinstein was "incredibly sexually flirtatious" with her although he was married, and she wasn't interested in him. She also commented on the "open secret" of his behavior toward women, saying "I was aware … and we were all 'Harvey gets to do that because he's got so much power.'" Here's her full statement:
"Harvey crossed lines and boundaries and was incredibly sexually flirtatious and forward with me when we were working together; he was married at the time, and I certainly wasn't interested … I was aware that he did the same with a lot of other women that I knew in the business. And we were all, 'Harvey gets to do that because he's got so much power and he's so successful and his movies do so well and everybody wants to work with him, so you have to put up with it.' So that was it. So when it happened, I was really like, 'Finally.' I wasn't cheering from the rafters because I'm never going to cheer for someone's demise. I don't think that's good karma anyway. But it was good that somebody who had been abusing his power for so many years was called out and held accountable."
The latest on Weinstein is that, according to an attorney representing 11 women accusing him of sex trafficking, the sexual-misconduct case is reportedly nearing a settlement in Manhattan Federal Court. Weinstein is facing a criminal trial in New York City this coming September on sexual-assault charges. Dozens of women have accused Weinstein of sexual misconduct, including inappropriate advances, threatening and derailing entire careers, and assault.