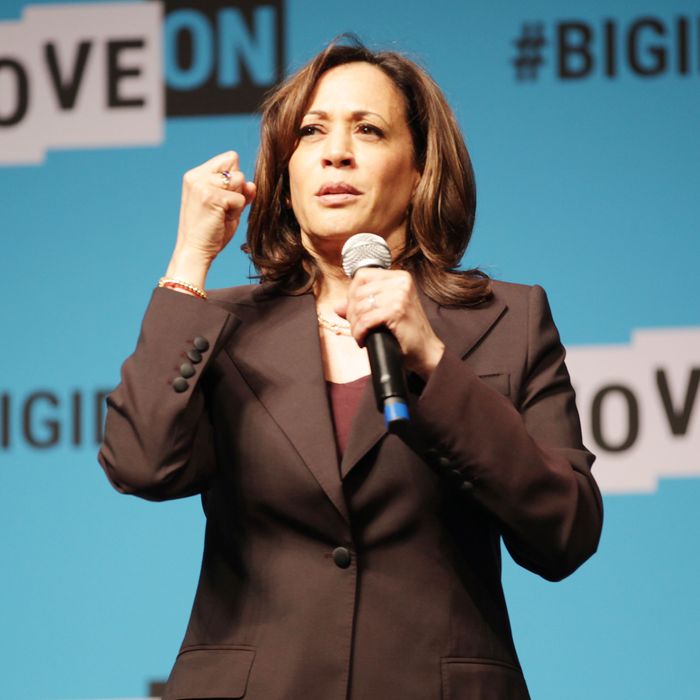 Photo: Miikka Skaffari/Getty Images for MoveOn
On Saturday, amid an interview with presidential candidate and California senator Kamala Harris at the MoveOn Big Ideas Forum in San Francisco, a dude had some big ideas of his own. Harris was being asked by moderator Stephanie Valencia about her plan to address the gender pay gap when animal rights and climate activist Aidan Cook strolled onto the stage and took Harris's mic from her.
Cook managed to say "I'm asking for your attention for a much bigger idea than …" before the mic was taken from him and guards hauled him off the stage. He was neither arrested nor charged.
Cook explained his motives to Politico in a subsequent interview:
"I live in Oakland and I'm one of Kamala Harris's constituents. I came to the MoveOn Big Ideas Forum today because there's one big idea that all of the 2020 presidential candidates are ignoring. Which is that is by raising and slaughtering billions of animals every year, not only are we completely … undermining our values as a nation of compassionate animal lovers but we are literally preparing to drive our society off a cliff. Animal agriculture is one of the leading causes of climate change."
When asked by Politico whether he thought his behavior might be seen as threatening toward the senator, Cook replied, "We've done everything we could to try to start this conversation through normal channels: We've reached out to all the campaigns, including Kamala's; we've reached out to MoveOn and pretty much have been completely ignored."
This looks bad, and it really is! I'm all for disruption-as-protest, but this action was poorly executed. It really seems Cook was not listening to the content of the question at play, otherwise he might have picked a better moment. Also, why not just bring your own mic? And — actually important — women, especially women of color, spend lifetimes being told through implicit and explicit bias that they take up too much space. This doesn't put women above being protested in public spaces — spoil Kirstjen Nielsen's dinner at a restaurant anytime — but it needs to be factored into one's strategy of opposition on a case-by-case basis. Systemic injustice shouldn't be brushed aside for the sake of making a point (or, in this case, failing to).