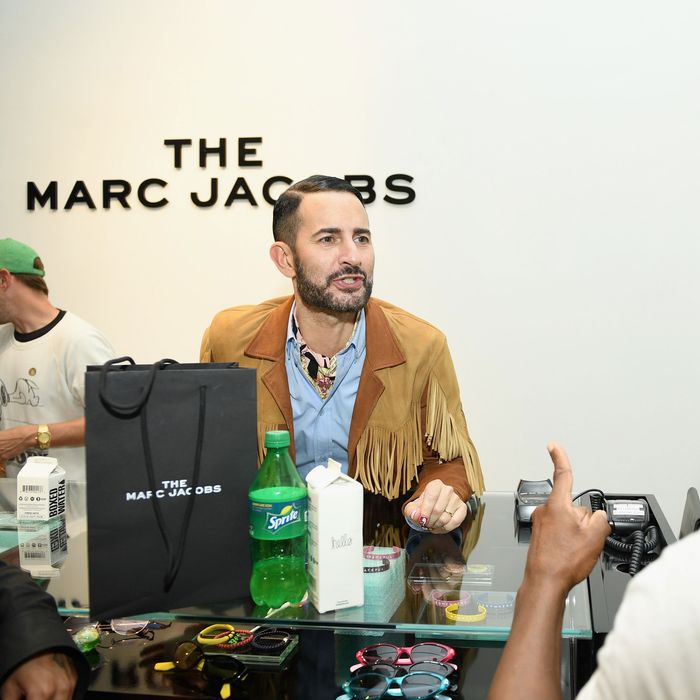 Marc Jacobs, employee of the month.
Photo: Dimitrios Kambouris/Getty Images for Marc Jacobs
Say what you will about Marc Jacobs, but he's committed to the bit. Last night, Marc Jacobs (the person) celebrated the launch of The Marc Jacobs (the diffusion line and pop-up shop) with a Soho block party offering Casamigos margaritas and the chance to buy merch featuring the New York Magazine logo and the beloved Peanuts characters. Behind the counter of the new store on Greene Street, ringing up sales, was Jacobs himself. "Was someone helping you this evening?" he asked a customer buying a blue sweater. Dressed in a fringe jacket accessorized with nail art featuring Snoopy and Lucy and a scarf from his new line, he showed a customer the extra features of the sweater and wrapped it up in tissue paper.
Of course, having one of America's most famous designers putting stuff in a bag for you was the highlight of the night. But the party also featured DJ sets by No Vacancy and performances from Tierra Whack and Kiddy Smile, plus ice-cream sandwiches from Morgenstern's and buttery lobster rolls with tator tots. While we can't guarantee that Jacobs will be working the pop-up again, you can shop the entire line at 59 Greene Street. So there's still a win to be had.