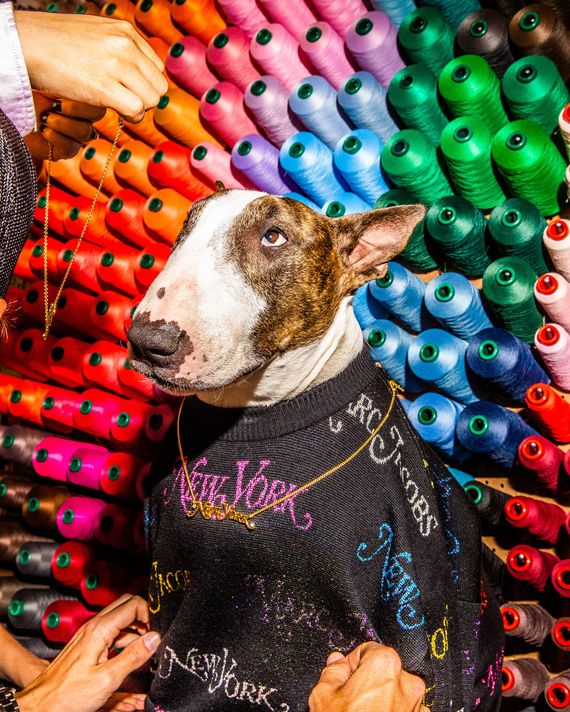 Neville, bull terrier companion to Marc Jacobs, models the collection.
Photo: David Williams for New York Magazine
There's Marc Jacobs, the brand, and then there's the Marc Jacobs, the man, the myth, the Instagram personality — and now, also the brand. This summer, the designer launched The Marc Jacobs, a collaborative new namesake line of direct-to-consumer clothes, bags, shoes, jewelry, and accessories. Like Jacobs himself, each piece is meant to exist as singular, eccentric entity, as opposed to fitting into a larger collection. "Item-y," he calls it.
The Silk Shirt, for example, is exactly that but also so much more, with stripes and and pussy bow designed in collaboration with Jacobs's longtime pal, Sofia Coppola. There's The Grunge Sweater, a continuation of his Redux Grunge revival collection, and a trendy Prairie Dress. Oh, and then there's The Logo Sweatshirt, featuring a mashup between Marc Jacobs and Milton Glaser's New York magazine logo, which is "one of the most iconic symbols connected to New York City," according to the brand.
In addition to the New York collaboration, The Marc Jacobs also includes mashups with Peanuts (if Marc's bull terrier Neville is his favorite real-life dog, Snoopy is his favorite cartoon dog), London milliner Stephen Jones, and Stutterheim, the Swedish rain-coat brand. Naturally, though, we're partial to the New York merch, which ranges in price from $35 to $1,295 dollars, and includes shoes, earrings, scarves, pajamas, and matching slippers, some of which you can see Neville modeling above.
For a selection of our favorites, scroll below.
The Marc Jacobs x New York collaboration is available worldwide in Marc Jacobs stores, select department stores, and marcjacobs.com. If you buy something through our links, New York may earn an affiliate commission.