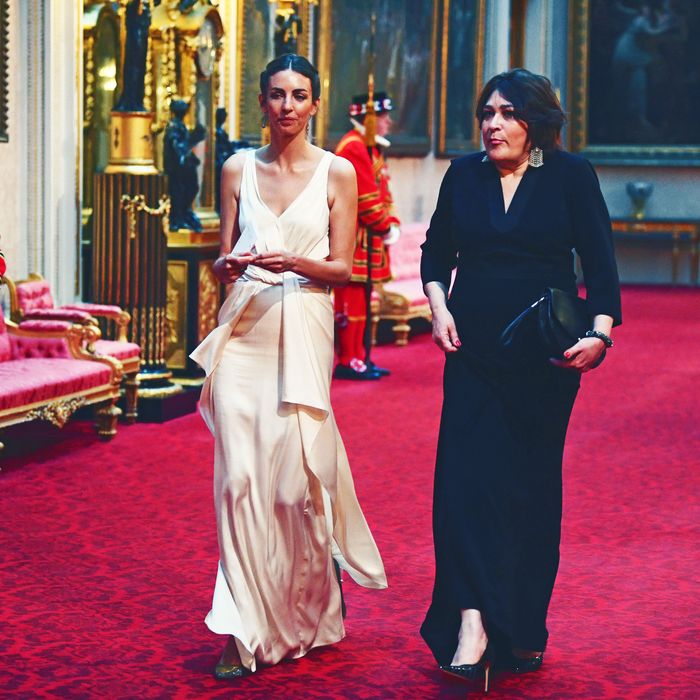 The Marchioness of Cholmondeley arrives at Monday night's State Dinner (she's on the left).
Photo: Victoria Jones/Getty Images
When your (alleged) squabbling can be set aside for the sake of Donald Trump, you know that you lead a profoundly insulated life.
Town & Country reported that on Monday evening, at Buckingham Palace's lavish State Banquet in honor of Trump's U.K. trip, the Marchioness of Cholmondeley (Rose Hanbury), who is reportedly feuding with the Duchess of Cambridge (Kate Middleton), was in attendance. So, of course, was Middleton. The two were reportedly seated close to one another. Duty brought these ladies together, but it isn't clear whether they had a chance to patch things up over glue-gunned partridge or whatever it is they ate.
To understand what this alleged spat is about I beg of you to read our handy write-up, but the short of it is: We don't know. The Sun reported in March that, according to a source, "Kate and Rose have had a terrible falling out." Furthermore, Kate has reportedly told her husband, Prince William, that "Rose needs to be 'phased out' as one of the ­couple's closest confidantes." According to the Daily Mail, both couples threatened legal action over The Sun's report.
Thinking of getting into the marchioness? Perhaps, first, by learning how to pronounce her title? We've got the intel on that too. What is essential to know is that she is married to a man named David Rocksavage, who is also the Marquess of Cholmondeley, and she is a member of the Turnip Toffs (a.k.a. "country snobs"), an ultra-wealthy royal rat pack of sorts, only they attend the same polo matches. The marchioness and her husband have a mansion three miles from Will and Kate's country house, making them neighbors. On top of which, being titled aristocrats, the marchioness and marquess are expected to show up to various royal events, making their presence in Middleton's life practically unavoidable.
Hopefully those two found a moment at the dinner to bury the hatchet, because there will certainly be more palatial meals and American governments to suffer through.