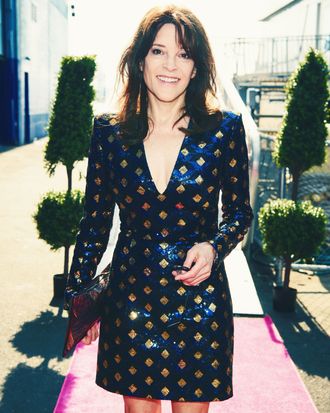 Marianne Williamson.
Photo: Dave Kotinsky/Getty Images
2020 Democratic presidential candidate and onetime Oprah spiritual adviser Marianne Williamson apologized on Thursday for calling vaccine mandates "draconian" and "Orwellian."
Speaking in New Hampshire on Wednesday, Williamson told her supporters that to her, mandated vaccinations are "no different than the abortion debate," NBC News reporter Julia Jester tweeted.
"The U.S. government doesn't tell any citizen, in my book, what they have to do with their body or their child," Williamson said.
By the next day, however, Williamson tweeted a (non-Notes app) screenshot of an apology walking back her comments.
"I understand that many vaccines are important and save lives. I recognize there are epidemics around the world that are stopped by vaccines," she wrote. "I also understand some of the skepticism that abounds today about drugs which are rushed to market by Big Pharma. I am sorry that I made comments which sounded as though I question the validity of life-saving vaccines. That is not my feeling and I realize that I misspoke."
Later that day, she went on The View and clarified her comments, saying, "I do not trust propaganda on either side," but that she supports vaccines.
Williamson also referred back to the interview she gave on Bill Maher's show in 2015, in which she made a distinction between being skeptical about science and being skeptical about the pharmaceutical industry and the government telling people what to do with their bodies. Still, she conceded then, the "facts are in about measles … and we need to get our kids vaccinated."
In response to her apology, Twitter users accused Williamson — a decidedly nontraditional candidate who has described herself as a "bitch for God" and gives campaign speeches at morning raves — of pandering to anti-vaxxers. Others noted the irony of her referring to vaccines as "Orwellian."
Williamson's comments come amid a nationwide measles outbreak that has flared up in 28 states including New York, where lawmakers recently passed a law eliminating the religious exception for the state's vaccine mandate for schoolchildren in response to the epidemic. So far this year, the Center for Disease Control and Prevention has recorded 1,044 individual cases of the measles, the greatest number recorded since 1992; the illness was declared eliminated in 2000.