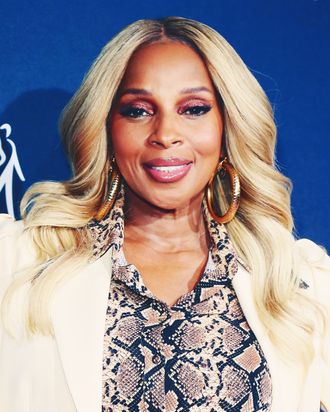 Photo: Leon Bennett/Getty Images
Mary J. Blige has many titles: general icon, legend, Queen of Hip-Hop & Soul, one of the 100 Greatest Women in Music, and M.A.C. spokesperson (twice, for Viva Glam in 2000 and 2002). Blige is taking up the role of M.A.C. spokesperson once again to celebrate Viva Glam's 25th birthday and the 25th birthday of her breakthrough album, "My Life" (among Rolling Stone's 500 Greatest Albums of All Time, and Time's All-Time 100 Albums, check it out.)
To kick off the festivities, Blige is helping M.A.C. launch their new Love Me Lipstick range, which is way less needy than it sounds. "The new M.A.C. Love Me Lipstick collection celebrates the love and respect you have for yourself," a release explains. "Who better embodies self-empowerment, joy, and love for life than music icon Mary J. Blige?" it hypothetically asks (as I literally agree). Blige is also getting her own limited-edition lipstick, French Silk, which comes in 24 shades and is "a delicate balance of brown, peach and pink undertones" that come together to form a flattering nude.
The collaboration-celebration doesn't end there. Blige will also be a judge at the third historic Love Ball on June 25. The Love Ball was born in NYC's ballroom scene, and created by NYC nightlife queen Susanne Bartsch in 1989 (five years before Viva Glam was born) with a likeminded mission to bring awareness of HIV/AIDS to the mainstream and provide funding to help those affected by the disease. This year's event is sponsored by M.A.C., emceed by Pose's Billy Porter, and will benefit the CFDA–Vogue Initiative for the New York City AIDS Fund.
Blige will be judging the Face category, and you can grab her lipstick for yourself online at maccosmetics.com on June 23. The same day, she's set to be honored with BET's Lifetime Achievement Award, which is just another cherry on top of this beautiful metaphorical birthday cake.