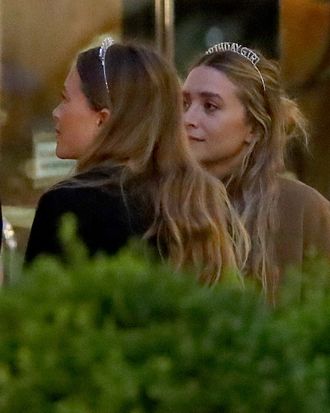 Photo: TheImageDirect.com
Mary Kate and Ashley Olsen quietly turned 33 yesterday. The Geminis celebrated with a "low key" dinner in New York. They did not have a Handmaid's Tale themed party, nor did they enforce a baffling dress code. However, the twins wore matching birthday-girl tiaras.
Birthday-girl tiaras! Just like your sophomore year of college when your fake ID turned 24! But these are the same people who just won an award for being the best accessories designers in America, so the crowns in question are as tasteful as birthday-girl tiaras can be. They're thin, small, silver, and in line with current trends. Still, who would have seen a pair of tiaras spelling out the words "birthday" and "girl" and thought, "I bet we'll see those on the Olsen twins soon."
The elusive twins have had their fair share of maximalist outfits — gestures vaguely related to their movie catalog — but they've reinvented themselves. No longer are they teen stars who wear cowboy boots and paisley; they are "quirky puritans," purveyors of luxe neutrals. And they did pair their crowns with neutral-colored tops and signature messy waves.
Of course, knowing our unrelatable girls, it'll turn out that the tiaras are rendered in 40-karat white gold with a thousand baguette diamonds as letters. But until then, I'm feeling better about my decision to wear a birthday sash last month.