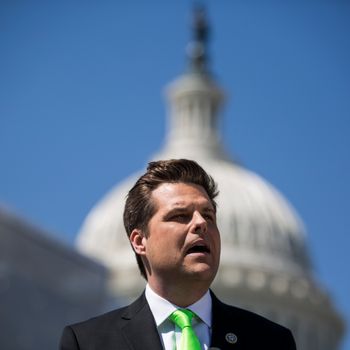 Photo: Zach Gibson/Getty Images
Matt Gaetz was already a hot mess, and now he is also a cold and dairy-rich one.
The Florida representative — who proudly displays in his Twitter bio that Donald Trump once called him a "machine … handsome and going places" — was stepping out from a town hall in his district on Saturday when a protester threw a milkshake on him.
Though Gaetz is a 37-year-old freshman U.S. congressman (and a lawyer), he has already made something of shameful name for himself. He's been known to lie about crime statistics to drum up xenophobic sentiment, and he publicly embraced Trump's concept of "shithole" countries, proclaiming that Haiti is one of them. Earlier this year, he was investigated by the Florida Bar Association for alleged witness tampering over a threatening tweet directed at fellow ghastly individual Michael Cohen, the president's former lawyer, ahead of Cohen's planned testimony before Congress.
Though GQ reckons Gaetz is the first American politician to be "milkshaked," the civic dousing of right-wing figures in blended ice cream has been popular in Britain for about a month. Former leader of the English Defense League Tommy Robinson and Brexit leader Nigel Farage have both been milkshaked.
In a statement to The Hill, Gaetz's spokesperson took the opportunity to praise cops, who in the face of milkshake are very "brave":
"All people are invited to participate in our #OpenGaetz town hall events regardless of viewpoint. If anyone assaults anyone else, they can expect to be arrested and prosecuted to the fullest extent of the law to ensure the security of all law-abiding participants. We continue to express our deep gratitude to the brave law enforcement officials who always keep our events and our community safe."
WKRG News reported on Saturday that 25-year-old Amanda L. Kondrat'yev was arrested and charged with battery in connection with the projectile shake.
On Thursday, nearly a month after he was milkshaked, Gaetz said in an appearance on Fox News that he planned to press charges against his assailant. "If there are no consequences," said the congressman "then maybe it's me getting hit with a drink one time, but what if it's a member of my staff? What if instead of a drink it's acid or urine?"
Imagine a world in which everything were in fact different. Matt Gaetz does. Inspiring.
This post has been updated.