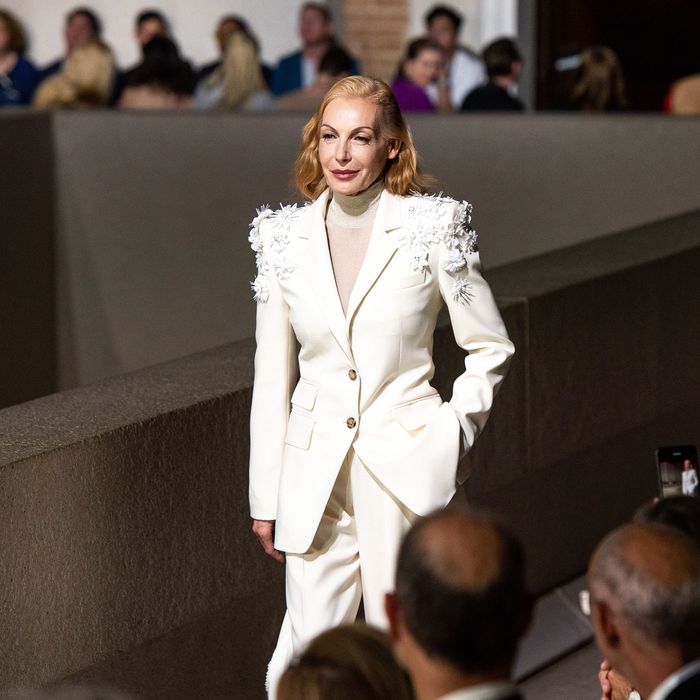 Ute Lemper.
Photo: Zacharie Scheurer/Getty Images
Max Mara is known for its sumptuous fabrics and impeccable tailoring, so it makes sense that two of the inspirations behind their resort 2020 collection were expert suit-wearers David Bowie and Marlene Dietrich. The show, held in Berlin, paid homage to the city, it's artists, history, and design.
The day before the show the brand held a cabaret for its guests, where singer Ute Lemper performed as Dietrich. The actual show was held at the Neues museum on Monday, and models descended down a grand staircase in a hall that was destroyed in World War II, and reconstructed in 2009. Max Mara is no stranger to architectural influences (creative director Ian Griffith studied architecture in college), so the locale made sense.
The clothes themselves were mostly monochrome outfits that often included sharp shoulders and wide-leg pants. The Neues museum has a vast collection of prehistoric artifacts, an influence that no doubt informed the large jewelry made by Reema Pachachi. But, the collection was shown in the land of club kids after all, so there were some elements you wouldn't necessarily expect from the heritage Italian line. Lurex, for example, appeared in several outfits, most notably in gray trench coat. Lemper and Carolyn Murphy closed out the show in a white suit and coat, respectively. Both wore lurex, sheer turtlenecks.