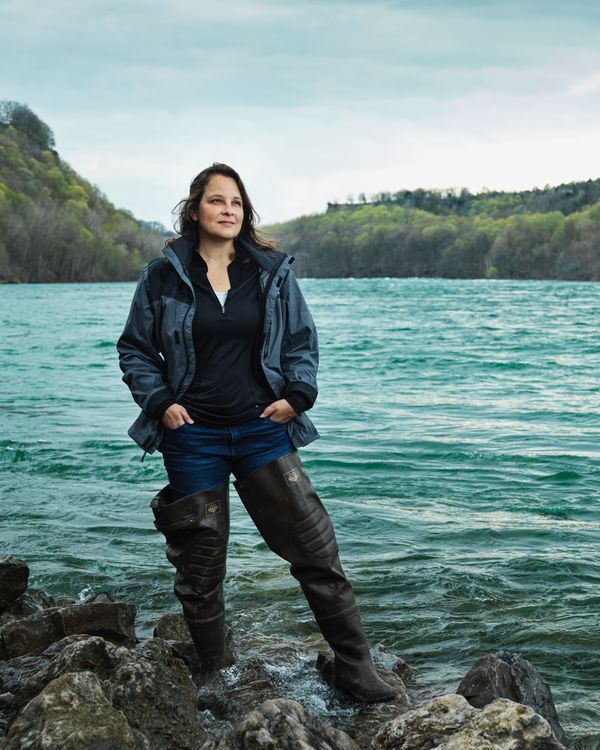 Jill Jedlicka, Buffalo and Niagara Falls. For decades, Jedlicka has fought to repair waterways contaminated by industrial pollution on the U.S.-Canada border.
Photo: Mark Schäfer for Culture Trip
Featuring voice recordings from celebrities like Lupita Nyong'o and Julia Louis-Dreyfus, an online photo gallery published today profiles 20 clean-water activists who have fought and won significant court battles in sites around the world. The "Waterkeeper Warriors" photo project celebrates the 20th anniversary of the Waterkeeper Alliance, a global nonprofit that focuses on increasing accessibility to clean water. To produce the portfolio, the nonprofit group teamed up with the travel site and app Culture Trip, which sent photographers to shoot portraits of Waterkeeper ambassadors in San Francisco, the Bahamas, Colombia, Senegal, and many more locales. The activists include Casi Callaway, who sued her local government in Alabama over violations of the Clean Water Act, and Rachel Silverstein, who fought against the expansion of Florida's PortMiami.
"Our Waterkeepers are grassroots activists who are fighting horrific acts of pollution and environmental injustice every day," the Waterkeeper Alliance's deputy director, Mary Beth Postman, said in a press release. "Through the Waterkeeper Warriors project, Culture Trip's photographers have captured their perseverance through a new lens and prove that heroes walk among us every day." Scroll for a preview of the gallery, which you can view in full here.