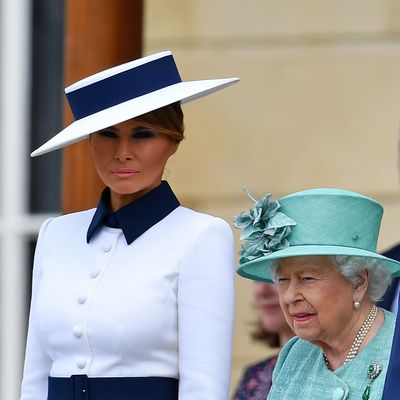 Photo: Jeff Mitchell/Getty Images
Members of the British royal family are known for putting a lot of thought into their hats, which is why Melania Trump's choice to wear one for her U.K. state visit with the president on Monday could be read as a gesture of solidarity. In fact, both the queen and the Duchess of Cornwall also wore hats to the official greeting at Buckingham Palace. But Melania Trump's hat — sharp and cocked to the side, almost obscuring her eyes — made a different impression on viewers.
Designed by her frequent stylist, Hervé Pierre, Trump's hat featured a large white brim and navy trimming. She wore it with a white dress accented by a belt and collar that, notably, was custom-designed by Dolce & Gabbana — a brand most public figures have avoided due to recent accusations of racism in China.
While the royals wore their hats perched on top of their heads, Trump wore hers tilted to the side. Traditionally, fascinators, those funny little hats the royal family wears, are worn on the right side of a woman's head to allow room for a man to stand on her left, but this is not a traditional fascinator. Trump's hat shields her head on all sides, with sharp angles pointing in the direction of her husband. It does not encourage a partner. Rather, it seems to say: Leave me alone.
Melania Trump has worn statement hats before. Most recently, when she wore a white pith helmet on a solo trip to Africa, commenters accused her of casually sporting symbol of colonial rule and oppression. "Melania seemed unaware that she was not in a 1950s safari movie and so obligingly ticked off every colonialist-Hollywood cliché in the book," wrote the Cut's Rhonda Garelick.
Last spring, Trump wore an even bigger white hat by Hervé Pierre for a state visit to France. Fashion critic Robin Givhan called it a "diva crown," or a "grand gesture of independence." In both instances, Trump seemed dressed to play a part — not of First Lady, but Hollywood actress or fashion model.
Perhaps that's why Trump's outfit on Monday drew comparisons to films like My Fair Lady, in which Audrey Hepburn plays a Cockney girl made over for high society. I also saw references to Joan Collins in Dynasty, the '80s soap opera depicting America's wealthiest families, and Scarface, the American gangster film starring Michelle Pfeiffer and Al Pacino — all of which neatly sum up Trump's narrative, if you choose to read it that way.
By now, Trump must be aware that her public appearances always spur debate about what her fashion choices are trying to say. Because she doesn't give many speeches, and because her clothing is often very dramatic and allusive, it often feels like a close-read of her outfit is the only way to learn anything about her. So it's hard not to wonder about the message behind a hat that keeps people from getting too close, or from looking directly into her eyes.