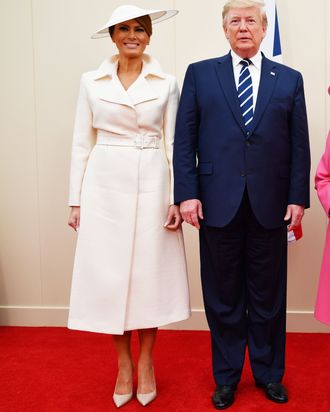 Photo: Jeff Mitchell/Getty Images
At the D-Day commemoration in England, Melania Trump wore a coat by the Row and a hat by Philip Treacy. Here's the thing: It's a good outfit. You can imagine Meghan Markle wearing something similar — a nicely tailored coat in a neutral color with a Very British Hat.
Trump has worn this coat before. WWD reports that her stylist bought it some time ago. But it's the Row! The brand is — maybe unreasonably — sacrosanct in the fashion world. Just this week, designers Mary-Kate and Ashley Olsen won an award from the Council of Fashion Designers of America for their minimal accessories. The Row is indisputably good taste. Which is why it was jarring to see it worn by a First Lady who has made some questionable choices.
On one level, it's just a coat. But there are very few ways that Melania communicates with the public, and her fashion sense is one of them. Seeing her in the Row doesn't exactly make her seem more human or humble, since the brand is prohibitively expensive. But it does plop her out of conspiracy world and into the real world — the one we live in, which has the Olsen twins — making choices that even her detractors might approve of. It's like if she said watched Killing Eve and loved it. Melania's daughter-in-law also crossed this invisible line by wearing Reformation last week. It forces you to imagine her doing things, even things as simple as selecting an extremely tasteful coat. And, of course, it's a reminder that having good taste and being on the side of good are two totally different things. But nonetheless — Melania wearing something by our Olsen twins? This will not stand!