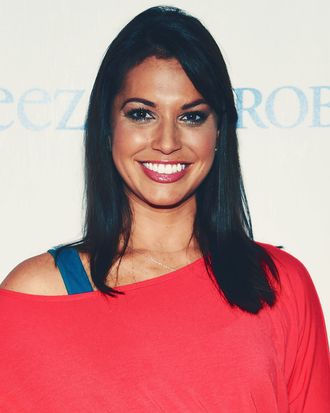 Melissa Rycroft.
Photo: Jamie McCarthy/2014 Getty Images
Former Bachelor star Melissa Rycroft is the latest person to come down with a mysterious sickness following a trip to the Dominican Republic, where a growing number of Americans have been falling suspiciously — and in some cases, deathly — ill.
On Monday, a source told "Page Six" that Rycroft had been "very sick" ever since vacationing with her family at the Nickelodeon Resort in Punta Cana earlier this month. While not many details surrounding her illness were reported, one of Rycroft's representatives told "Page Six" that she had "major stomach issues since returning from the Dominican Republic."
"She got an upset stomach on the second day of vacation, but it passed," the representative said. "Once they came home, she got severe cramping. It has lasted for over a week, and she's currently getting tested for possible parasites and any other infections."
Rycroft also opened up about her condition on Instagram, where she posted two photos with captions about not feeling well. Next to a photo of herself at a doctor's office, she wrote, "After a really rough week, I have been put on a liquid diet, and given meds for my severe cramping."
By Thursday morning, though, Rycroft let her fans know that she was making "good progress" after getting prescribed medicine.
"Update for everyone asking: More bloodwork done today," she posted to her Instagram Stories, per "Page Six." "Blood pressure was 90/60 so they're monitoring it. New meds are making me feel so much better! Test results by Thursday at the latest!"
Though Rycroft is seemingly feeling better, her sickness comes at a time when a mounting number of Americans are falling ill — and in some cases, dying — during or after trips to the Dominican Republic. In the past few months, at least nine people have been found dead in their hotel rooms in the country, and countless others have come down with serious sicknesses. While an FBI investigation into the deaths is still ongoing, experts believe the symptoms are "consistent with poisoning." (Local authorities are currently investigating whether bootleg alcohol is the source of the worrying trend.)
"It's rare for travelers to die of unknown causes like this, and to have a high number of them in a relatively short period of time is alarming, shocking, sad," Tom Inglesby, the director of the Johns Hopkins Center for Health Security, told the Times. "It's something that investigators should be able to get to the bottom of."
This post has been updated.