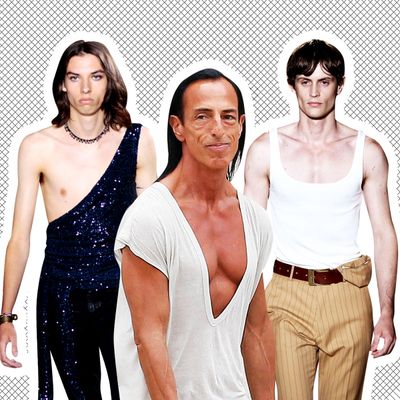 From left to right: Saint Laurent Spring 2020, Rick Owens, Dries Van Noten Spring 2020.
Photo: Getty Images
This month, I traveled to Europe to see how men will wear clothes next spring. Instead, I saw lot of nip.
Of course, a visit to any museum will confirm that the Italians and the French have been freeing the nipple since forever. But the runways were notably skimpy this season. In Paris, Rick Owens opened his spring 2020 show with a gleaming six-pack and bottoms so low-rise, Paris Hilton would have gasped. He then took a bow wearing a comically deep V-neck, his tan, muscular chest bulging out underneath.
Street style was risqué as well. One fancy man was wearing a low-cut Bottega Veneta tank top which accentuated the curves of his chest and his many tattoos. I told him I liked his look. "You can see my little hairs," he said with a wink, before waltzing away in his Crocs, sans socks.
True, a heat wave has been making its way across Europe, but that doesn't explain why menswear was so revealing this season. Not in a Magic Mike kind of way — the collections were overwhelmingly sensual and elegant, leaning toward the feminine. While women are suiting up, men are stripping down, embracing their softer and more vulnerable sides. Even Hedi Slimane's Celine collection was unbuttoned, with droopy tank tops, open shirts, and playful graphics. At Saint Laurent earlier this month, models walked along a California beach wearing similarly relaxed silk shirts, showing lots of skin. And at Dries Van Noten, mesh and leather tank tops, worn with ballet flats, made me want to go dancing with the models afterward. Finally, it seems men have got some good going-out tops.
What makes a good going-out top? Last year, we described it as a garment with personality, that you want to be seen in. It doesn't have to be sexy, or fancy, or involve spaghetti straps these days, but it does have to give off a certain flirty, confident energy. It's different from a daytime top because it takes more risks. It's alive! It's fun! But also embodies a bit of mystery. The fact that men's fashion is embracing the going-out top suggests a turn in gaze. The implication is that men want to be objects of desire, and perhaps, to quote Billy Porter, to "play," no matter who's watching.
In Italy, Gianni Versace basically invented the flashy, sexy going-out top, which the brand still has a monopoly on. But Fendi offered a softer kind of romance in Milan this season, collaborating with Call Me by Your Name director Luca Guadagnino on an intimately detailed collection that was shown in a sunny garden. Tops were light and breathable, with slits and intricate latticework as opposed to traditional mesh. Some shirts appeared to inhale and exhale as models walked into the breeze.
In Paris, per usual, the feelings of the season were pushed to their furthest extreme. At Comme des Garçons, black-tie ruffled button-ups were cropped to reveal the wearer's navel. The collection was inspired by Virginia Woolf's Orlando, about a character who lives as both a man and a woman. (Rei Kawakubo will design the costumes for the Vienna State Opera's upcoming production of the novel.) At Dior, a see-through tulle T-shirt was embellished with intricate ombré pleating, raising its cost to over $100,000. Even Hermès, a house known for clean, luxurious staples, translated its iconic printed scarves to vibrant shirts fitting of a modern-day Furio Giunta.
You couldn't go out in the tops by Virgil Abloh at Louis Vuitton, but only because if you turned around, you'd knock over everyone at the club: They had three-dimensional kites harnessed to the back. And at Jacquemus, which closed out the season in middle of a lavender field in Aix-en-Provence, one model didn't wear a shirt at all. Who needs a going-out top, though, when you've got a farmer's tan? And a six-pack.