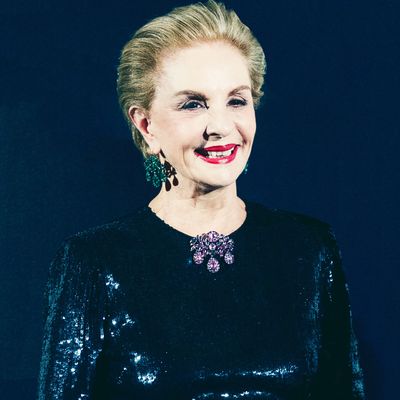 Photo: Juan Naharro Gimenez/Getty Images
For the first time, the government of a country has accused a fashion brand of appropriating its culture. In a letter dated June 10, the Mexican Government said that the latest Resort 2020 collection for Carolina Herrera used indigenous Mexican patterns in an inappropriate way.
According to Reuters, the letter demanded that Herrera "publicly explain on what basis it decided to make use of these cultural elements, whose origins are documented, and how this benefits the [Mexican] communities." The letter was sent to Herrera, who founded the brand 38 years ago, and Wes Gordon, who is the current creative director. The collection in question features undeniably Mexican-inspired textiles in four of the garments. The letter says they're direct rip-offs of a floral embroidery known as Istmo de Tehuantepec and a striped textile called Saltillo Sarape.
A senator for the National Regeneration Movement, Susana Harp, talked about the issue on Twitter. She said the clothes were made "without permission, respect, or economic retribution" for the communities who make them.
In a statement provided to the Cut, the brand responded that the collection was directly inspired by Mexican cultural heritage and artisinal techniques. It also noted that Herrera, who is Venezuelan, is "one of the main emissaries of the Latin spirit around the world."
Gordon said, "My admiration for Mexican artisanal work has been growing over the years, most recently through my trip to the country. With this new collection I endeavored to honor this magnificent cultural heritage."
Carolina Herrera is far from the only brand to be accused of cultural appropriation in recent years. Marc Jacobs faced similar accusations for walking dreadlocks down the runway in 2016 and apologized. Gucci weathered a controversy over including a turban in its February fashion show. And Vogue caused an uproar by including a photo of Kendall Jenner wearing an Afro. But this is the first time a government agency has gotten involved.