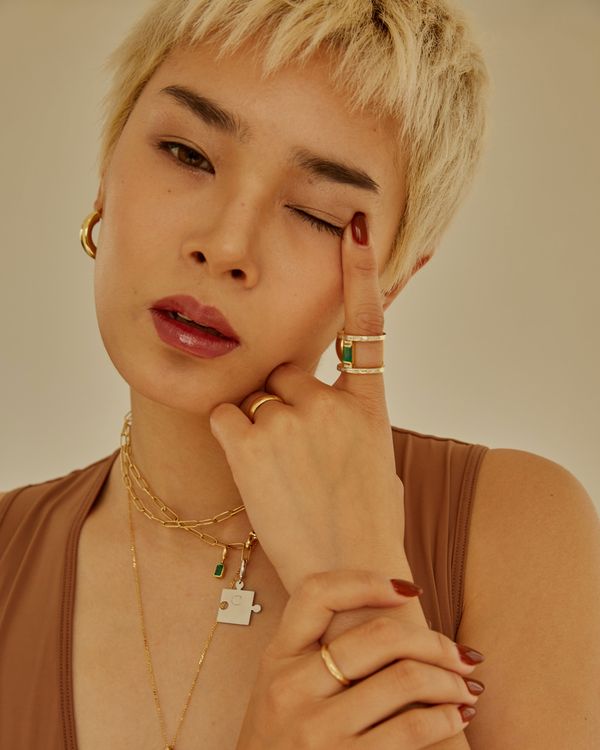 Photo: Courtesy of Milamore
Personal jewelry, the type of thing you throw on every day, usually has meaning to the wearer. Whether it's been passed down through the generations or it tells a good story, it holds sentimental value. And for the new fine-jewelry brand Milamore, each piece has a tale.
Founded by George Root, the brand is a tribute to his beloved grandmother. Her name, Milagros, means "miracle" in Spanish, but those who were close to her called her Mila for short. Combined with the Italian word for love, amore, Milamore was conceived. Raised in Japan, Root draws from his roots as the biggest source of inspiration for the brand. While every piece is designed in New York, the fine jewelry is actually crafted near the foothills of Mount Fuji using techniques that have been passed on for generations.
Root hopes that each piece holds a deeper meaning for whoever wears it, and each collection has a story. One line of charms features three animals central to Shinto beliefs: the crane, the goldfish, and the turtle. The crane sends wishes to the heavens, the goldfish brings good fortune and wealth, and the turtle provides calmness and longevity. Another collection references puzzle pieces — and the pieces can be linked together. For those looking for classic pieces, there are chains, hoops, and simple rings as well. Prices begin at $950 — they're all made from gold, diamonds, and other precious gems and meant to be special items that'll last for generations.
Check out Milamore's first-ever campaign below, shot by French photographer Bettina Rheims, who is known for exploring gender in her work, and shop for everything here.