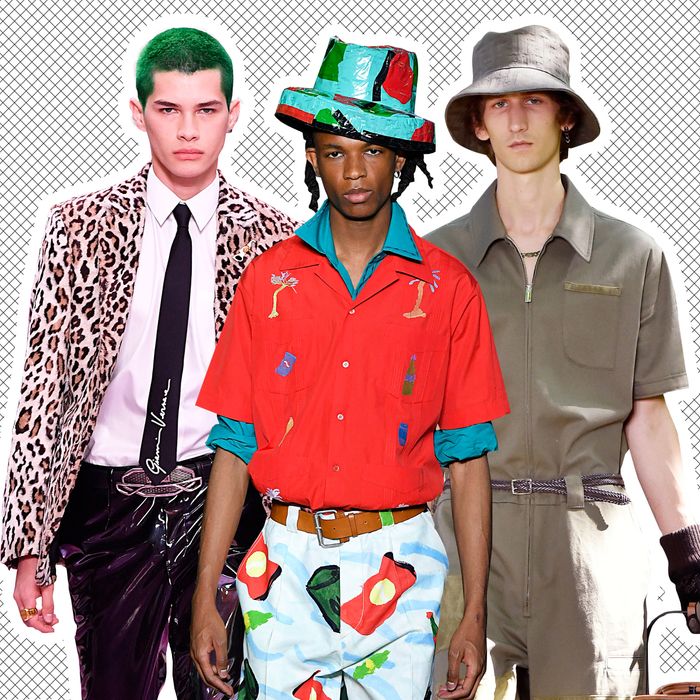 Italian fashion is steeped in tradition, but this season, the menswear shows during Milan Fashion Week hosted an eclectic mix of new names and styles. They began on Friday afternoon with a presentation hosted by the Italian fashion organization Camera Nazionale della Moda Italiana, which brought together students from all over Italy to showcase their graduate collections on a single runway. The looks were highly individual — one designer showed tailored shorts made out of shiny plastic, for example — and a panel of judges had the difficult task of picking favorites. Altogether, the group set the tone for what would be a wide-ranging week of shows. Prada even decamped all the way to Shanghai this season, proving that the Italian man is finally ready to leave his comfort zone.
Below, our top three moments from Milan.
1. Marni's Colorful Prints
At Marni on Saturday afternoon, the runway itself took an unexpected turn. In lieu of a front row, guests were invited to stand on large red dots painted on the floor. A meandering yellow pathway snaked in between, offering a visual breadcrumb for models. The collection was inspired by the imagined meeting of Truman Capote and Che Guevara — two completely different men, one an American writer and social butterfly, the other an Argentine guerrilla leader. Somehow, designer Francesco Risso made me believe that the two had actually met in real life and were maybe even friends and collaborators. The clothes were a convincing marriage of scrappy and suave, with colorful printed shirts, patchwork suits, and couture-looking feathered hats made entirely from trash by the artist Shalva Nikvashvili. Bill Cunningham would have approved.
2. Versace's Unapologetic Hotness
At Versace that same afternoon, the vibe took a 180-degree turn. Donatella Versace dedicated her collection to British punk rocker and Prodigy front man Keith Flint, who died unexpectedly in March. The two became friends in the '90s, when Donatella did significantly less work and more play. Homage was paid with neon hair, bleached prints, and studs, plus an all-Prodigy soundtrack. The most punk aspect of the show, though, was Versace's unapologetic sex appeal. A sleek black Ferrari rotated in the middle of the outdoor runway as models walked in the afternoon heat. Although it was men's week, both sexes were present. A newly single Irina Shayk looked smokin' in a leopard-print dress, and Bella Hadid closed the show wearing a high-rise thong. Sorry, boys, nothing can compete with that.
3. Fendi's Lush Garden
The highlight of the week by far was Fendi's show, which took place on Monday morning in an idyllic park outside the the Royal Palace of Milan. Guests were each given a picnic basket with Fendi-branded bananas, puff pastries, and a Fendi-branded coffee cup, which was filled and refilled by tan, attractive attendants. Silvia Venturini Fendi is a gardener herself, but the stunning scene (and fruits) made perfect sense in the context of this season's guest designer: Call Me by Your Name director Luca Guadagnino. The collection fell somewhere in between Marni's bohemian charm and Versace's vision of the high life. As models walked carrying bags shaped like watering cans, you could hear the gravel crunching beneath their feet and birds chirping in the background. The clothes themselves seemed to be on a scenic Italian vacation, with light fabrics and ventilated tailoring allowing long, caftan-like tops to blow in the breeze. The only thing missing was a cold peach.