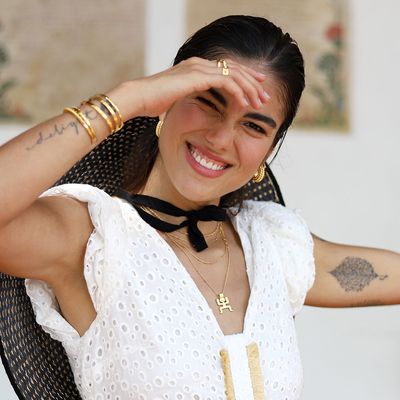 Photo: Courtesy of Missoma
If I had a penny for every time I've heard, "So do you have any summer travel plans?" I'd be as rich as Rihanna's boyfriend. If daylong voyages to overcrowded New York City beaches count as travel, sure, but alas nowhere exotic or tropical is anywhere on my agenda. Since I can't go anywhere, I'm trying to comfort myself with a pair of Columbia-inspired hoops from British label Missoma.
Chances are you've already seen some Missoma in the wild: Meghan Markle frequently wears the brand's rings, and Margot Robbie is a fan of its gold pendant chains. Founded more than ten years ago in London by Marisa Hordern, the label has become a calling card for influencers across the pond. Now Hordern is bringing her wares to the States.
The latest collection is a buffet of rich-looking 18-karat-gold vermeil and gold-plated pieces, embellished with bright stone accents. Before its creation, Hordern traveled to Colombia to get acquainted with regional jewelry techniques and to immerse herself in the local culture. "The pastel-hued gemstones are inspired by the cities of Cartagena, Bogota, and the historical town of Mompox," Hordern told the Cut. "The Mompox are known as true fine goldsmiths, producing detailed work that is present throughout this collection."
Everything in the collection is priced under $200, with most rings around $90 and stone lariats for $79. Because the items are delicate, Hordern encourages layering them with other gold pieces. Scroll down to see the full collection and to shop our favorites.
Photo: Courtesy of Missoma
Photo: Courtesy of Missoma
Photo: Courtesy of Missoma
Photo: Courtesy of Missoma
Photo: Courtesy of Missoma
If you buy something through our links, New York may earn an affiliate commission.