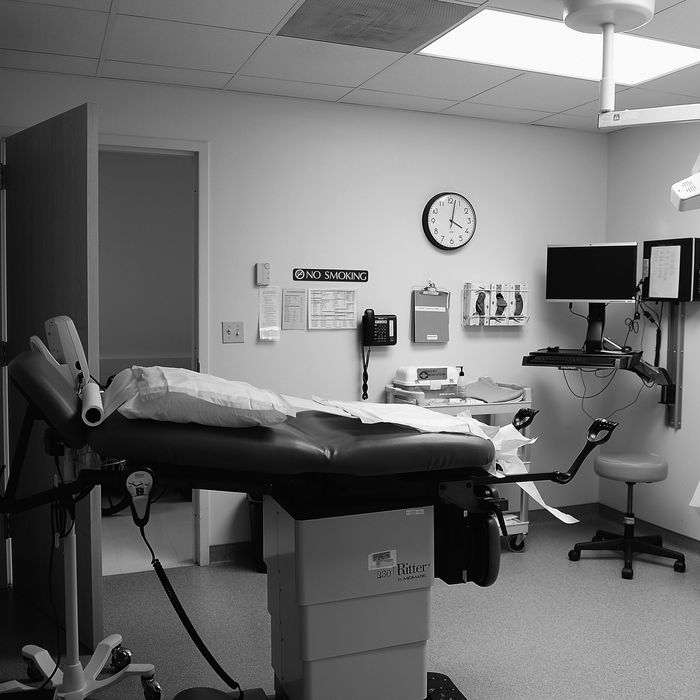 An exam room sits empty in the Planned Parenthood Reproductive Health Services Center on May 28, 2019, in St. Louis, Missouri.
Photo: Michael B. Thomas/Getty Images
Missouri's last abortion clinic is still open, albeit with one formidable caveat: In order to help patients terminate legally, doctors must perform not one, but two vaginal exams beforehand. There is no medically legitimate reason to justify duplicate exams — a point on which the American College of Obstetricians and Gynecologists adamantly agrees — and doctors say the "invasive" obligation exists solely to deter Missourians from accessing care that, at least for now, remains their legal right.
"To put it succinctly, it feels like we are an instrument of the state in sanctioning sexual assault," Colleen McNicholas, an obstetrician and gynecologist at Planned Parenthood of the St. Louis Region, tells the Cut. "It has been really quite emotionally traumatizing, both for patients and for providers."
Last month, Planned Parenthood of the St. Louis Region announced that it would likely have to shut its doors, due to the state health department's reinterpretation of its long-standing "informed consent" law. The department refused to renew the clinic's license, unless providers agreed to its arbitrarily harsh conditions. Missouri requires abortion-seekers to make two appointments: During the first, the same physician who will perform the procedure provides counseling (which itself includes medically inaccurate, but state-mandated, information) purportedly intended to help patients decide whether or not they want to carry a pregnancy to term.
After a 72-hour waiting period, they can then return to the clinic to terminate. Now, doctors at PPSLR must perform a vaginal exam during that initial appointment, on top of the standard-issue exam performed on the day of the procedure. Making a patient lie back while a doctor inserts fingers and instruments into their vagina, under the guise of informed consent, "provides us no relevant medical information to help the patients make the best choice in approaching their abortion care," McNicholas emphasizes.
Planned Parenthood requested an injunction to keep the clinic afloat, and last week, a judge headed off the looming closure with a temporary restraining order. The health center will remain operational until the judge makes his final ruling, effectively obligating staff to work with an ax hanging over their heads.
"That [ruling] could come any day," McNicholas explains. "There could be a patient in a gown, waiting to have her abortion next, and when the judge makes his decision, may have to get dressed and leave." As a result, she continued, "Every day, we're trying to figure out, 'Okay, we can start today; should we start earlier? Should we bring patients in sooner, in the event that today is the day and it happens … before we can complete all the procedures?"
"Imagine," she adds, "being this Missourian who navigated [all those] hoops, had an unnecessary pelvic exam, and ultimately not being able to get the care you need and deserve."
Missouri builds an inordinate number of roadblocks into abortion access: Public and private insurers cover the procedure only in cases of life endangerment, and the state has outlawed the use of telemedicine to dispense abortions remotely. Missouri also ranks among the handful of states that force patients to make two separate trips to a clinic, at least three days apart. "For those [patients] who live close to the clinic, they may come back in 72 hours," McNicholas notes. "For most, they go back to where they live, outside of urban St. Louis. They make their way back within a week or two weeks, sometimes even longer, as they navigate the geography difference, the transportation issues, child-care coverage, negotiating another day off of work." Those hidden expenses add up, often pushing the procedure further into a patient's pregnancy, which not only hikes up the cost, but also narrows the window in which they can legally terminate.
Adding to the stress, McNicholas says, is widespread confusion over the current law: Missouri recently joined a string of other right-leaning states in passing a near-total abortion ban, criminalizing termination after eight weeks — even when unwanted pregnancies result from rape, incest, and human trafficking. The law would not take effect until August 28, but according to McNicholas, "The general public doesn't quite know how to separate all the different pieces" at play in the state's attack on abortion, nor "what those pieces mean for their care."
"We inform them that, on the day you come for your consent [appointment] … we can provide care; when your 72-hour waiting period is up, we may not be able to," she explains. "They also know — and I hope they hear us [when we] tell them — that regardless of what happens, we will still help them get that care, whether that means in our building or … helping them navigate crossing state lines," likely to a clinic in Kansas or Illinois.
As anti-abortion organizations and legislators, emboldened by an increasingly conservative political climate and an administration sympathetic to their agenda, continue to tear away at a constitutional right, we've compiled a list of ways you can help. Right now, abortion remains legal nationwide.