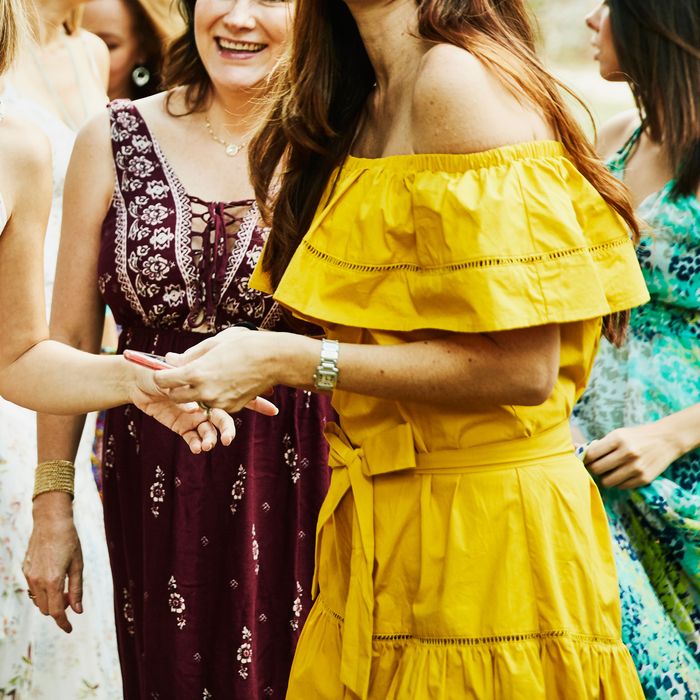 Photo: Thomas M Barwick INC/Getty Images
Twenty women in Utah recently had an extremely romantic evening with a "mysterious" Mormon millionaire who treated them all to a group date that involved a Powerpoint presentation and apparently also him hiding behind a sheet for a portion of it, the Salt Lake Tribune reports.
This is a lot to unpack, so let's step back a moment. Last month, per a report by Elle, several large billboards started appearing in Salt Lake City advertising that a wealthy member of the Church of Jesus Christ of Latter-day Saints was looking for a wife. The billboards read, "LDS Millionaire looking for his wife/Exclusive VIP Event June 7," along with the website LDSMillionaireMatchmaker.com and an image of a hand holding a box with an engagement ring. You can see one such billboard here.
As it turns out, Erin Schurtz — a.k.a. LDS Matchmaker — had set up the event for a wealthy client. And it apparently went down last week.
Around 2,500 women applied for the event, the LDS Matchmaker told the Tribune in a statement, including applicants from New York and Idaho. Of that numer, 20 were selected to attend the group hang. The statement continued:
"Most were college educated and seven had graduate degrees. All were members of The Church of Jesus Christ of Latter-day Saints, were beautiful, well-spoken and came away having made new friends and were glad they had come."
The Friday event, it seems, truly had it all. There was the alleged millionaire Mormon bachelor, hiding behind a sheet until he was introduced. His identity has not been publicly revealed, and we may never find out because the event also had nondisclosure agreements (how romantic), but the Tribune notes that he was described as a former White House staffer in a previous Republican administration. Women arrived via limo. The man reportedly gave a Powerpoint presentation that focused on, per the Tribune, the top-ten reasons he was looking for a wife; there was also a four-course meal and Bachelor-style "mini" one-on-one dates with each attendee. Video from the event was also posted online here.
So, did this rich man find himself a wife? Unclear! But according to the Tribune, he did go on "several" one-on-one dates on Saturday and Sunday with some of the women. And next, the matchmaker apparently hopes to set up a similar event for a bachelorette.
We love love!