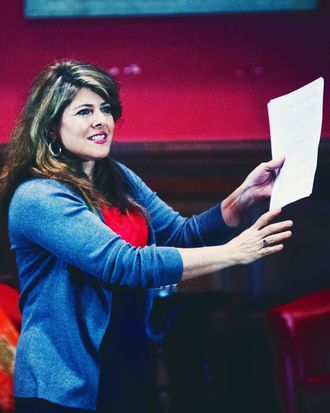 Naomi Wolf.
Photo: Roger Askew/Shutterstock
Naomi Wolf's publisher has pushed back the release date of her forthcoming book, an announcement that feels somewhat belated, as we learned in May that she pinned a substantial portion of its premise to a big misunderstanding. We learned this at the same time Wolf did: BBC Radio Host Matthew Sweet revealed the error in a live interview, resulting in an audio clip that is the equivalent of a full-body cringe.
Wolf's latest book, Outrages: Sex, Censorship, and the Criminalization of Love, deals with the British government's criminalization of same-sex relationships in the 19th century. At issue: the old-timey legal term "death recorded," which Wolf took to mean "execution" (as in, "I found several dozen executions" in London's criminal court records) but which actually indicates a pardon on capital punishment. In the interview, Wolf was explaining how her research "corrects a misapprehension that … the last man was executed for sodomy in Britain in 1835," when Sweet politely intervened: "I don't think you're right about this," both because of that whole death recorded SNAFU, and because sodomy doesn't exclusively refer to sex between two men.
Here's audio of the fatal blow. Caution, it may cause you to retreat into your own neck like a turtle.
Outrages has already released in the U.K., and was set to publish in the U.S. on June 18. Initially, Houghton Mifflin Harcourt said that — while editors rely on authors to get their facts straight — the company believes "the overall thesis of the book … still holds," even "despite this unfortunate error," which Wolf would correct. On Thursday, they told the New York Times:
As we have been working with Naomi Wolf to make corrections to 'Outrages,' new questions have arisen that require more time to explore. We are postponing publication and requesting that all copies be returned from retail accounts while we work to resolve those questions.
It's unclear what the nature of those "new questions" might be, but Wolf has a history of fudging facts. For example: In her debut book, The Beauty Myth, she wildly inflated the number of women who died annually from anorexia in the 1990s. (She reportedly placed the figure around 150,000, when actually it would've been closer to 50 or 60.) In a statement to the Times, she said, "I stand by my work."
"The misinterpretations I made [in Outrages], I directly acknowledged and took immediate action to correct," she continued, "but many of the other critiques are either subject to interpretation or are themselves in error … More responsiveness and more transparency are the right answers to criticism, and not the complete withdrawal of a text."
No word yet when Outrages will come out, but we have contacted HMH and will update if we hear back. In the meantime … woof.