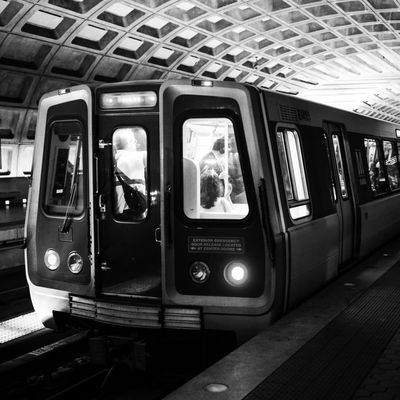 D.C. Metro.
Photo: Bill Clark/CQ-Roll Call,Inc./Getty Images
A Jordanian-American writer who lost her book deal after publicly shaming a black bus operator is suing her publisher for $13.4 million for causing her "extreme emotional distress," the Washington Post reports.
On May 10, Natasha Tynes tweeted a photo of a female transit worker eating on the D.C. Metro, calling the behavior "unacceptable" and demanding that the Metro respond. The tweet was immediately met with a widespread backlash, compelling Rare Bird Lit Inc. to distance itself from Tynes and cancel her debut novel, They Called Me Wyatt. The way the publisher handled the scandal, Tynes claims, "permanently ruined" her reputation. And, last Friday, her lawyers sued Rare Bird Lit Inc. for breach of contract, defamation, and emotional distress.
The 36-page lawsuit focuses heavily on the statement that Rare Bird Lit put out amid the social-media outcry — that Tynes's tweet was "something truly horrible." According to the lawsuit, which was filed in Los Angeles County Superior Court, the publisher's statement caused Tynes to have anxiety attacks that required hospitalization and landed death threats in her in-box. A week and a half after the scandal, Tynes claims, she left the U.S. for Jordan, "fearing that her 1-year-old baby, her 7-year-old twins, and her husband would be the subject of violence, reprisals, and harassment at the hands of a mob."
"Subjecting an immigrant woman of color to this racial torment for their own personal profit is what [Rare Bird Lit], an all-white company, promoted while its imprint publicly lectured [Tynes] 'that we have to be allies, not oppressors,'" the lawsuit continues. Tynes also claims that because she did not grow up in the United States, "the issue of race had not even occurred to her when she made the tweet," which she apologized for.
Rare Bird Lit Inc., however, stands by its decision to cancel Tynes's book.
"It is ironic that, having taken advantage of her First Amendment rights with an ill-advised tweet, Ms. Tynes now seeks to stifle and punish use of those very same rights of a respected book publisher who legitimately expressed its opinions of her conduct, rather than take responsibility for her own actions," David Eisen, an attorney for Rare Bird Books, told BuzzFeed News. "Ms. Tynes would have been better served to have simply let this episode disappear into the annals of history."