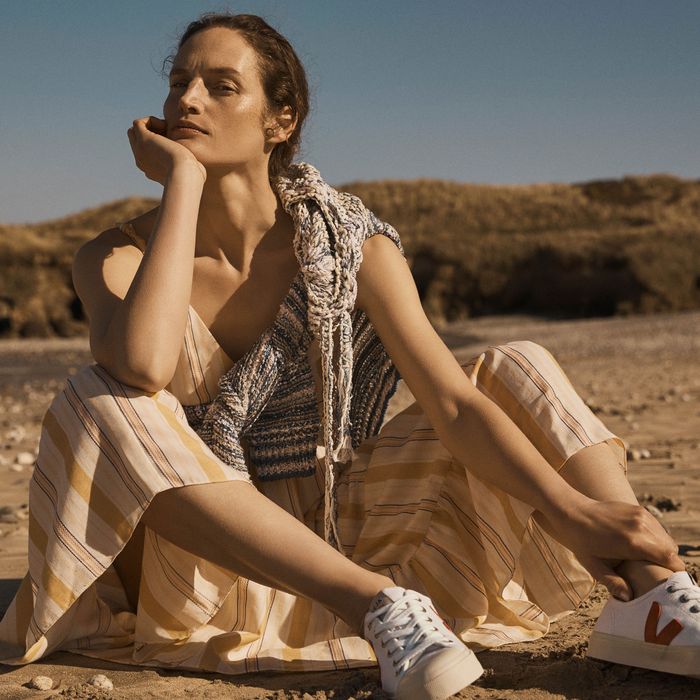 Photo: Courtesy of Net-a-Porter
The world of sustainable fashion can be confusing — how do we feel about leather? Are jeans bad? It can be a lot for a consumer to parse without a degree in environmental science. But Net-a-Porter is making an effort to be more transparent about which brands are sustainable according to its own criteria.
The new NET Sustain platform, which launched today, is comprised of 26 brands who meet some kind of "key attribute." Each brand was selected for at least one of the following: considered materials, considered processes, reducing waste, locally made, and craft and community. Those may sound vague and subjective, but within each pillar are technical certifications, such as Leather Working Group, Global Organic Textiles Standard, Fair Trade, Cradle to Cradle and the like.
And if you're still wary, some of the biggest brands in sustainability are included, like Mara Hoffman and Stella McCartney, as well as buzzy brands like Veja (a favorite of the New York staff), Mother of Pearl, and Maggie Marilyn. Amy Powney, the creative director of Mother of Pearl, said this "signifies that global retailers are listening to their consumers, and are ready to make a positive change in the industry."
Many of the brands have already been available on Net-a-Porter, but the big benefit is that now customers won't have to guess whether or not something is sustainable. All NET Sustain products are marked as such on the site, and also live on their own little edit. Almost more interesting than the presence of a badge is the absence of one — for me at least, it's compelling to see how many brands don't meet at least one of the five pillars. More brands will be evaluated and added to the NET Sustain edit over time. But to start, there's plenty of style in the NET Sustain edit — no need to sacrifice style. See for yourself.
Shop the Story
Available in sizes UK 6–UK 14.
Available in sizes XS–XL.
Available in sizes UK 6–UK 14.
Available in sizes 00–14.
Available in sizes UK 6–UK 14.
If you buy something through our links, New York may earn an affiliate commission.