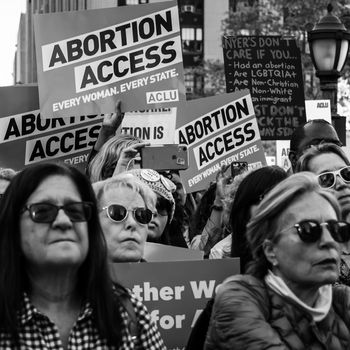 Photo: Pacific Press/LightRocket via Getty Images
As reproductive rights across the country face constant attacks, New York City is stepping up to help with abortion access for women living in affected areas. The city has now allocated $250,000 to a nonprofit that will help poor people living in other states travel to the city to obtain the procedure, the New York Times reports.
The funds will go towards the New York Abortion Access Fund, which helps cover the costs of abortion for low-income people, in addition to helping others come to New York for the procedure. The Times points out that while the amount of allocated funds may seem relatively small, its symbolism is fairly huge in the fight for abortion access. Activists believe this is the first time a city has set aside funding specifically for abortions, per the report.
New York City already provides funding to Planned Parenthood, and the city's hospital system also performs abortions, but due to bureaucracy and sliding-scale payments, the procedures aren't always covered. With the new funds, which are set to be included in the new city budget being negotiated between City Council and the mayor's office, 500 additional women will be able to terminate pregnancies. This is quite significant, as the NYAAF's website states that the procedure can range from $524 to $3,000, depending on the gestation period.
According to the NYAAF, even women in states that allow Medicaid to cover abortion (as it's currently prohibited on the federal level, thanks to the Hyde Amendment) often end up having to shoulder the costs themselves. That's frequently due to not being able to afford the procedure — while simultaneously not qualifying for Medicaid coverage. Women in states with restricted abortion access — or who have to cover the procedure themselves — often end up traveling to New York City anyway, as the NYAAF says abortions can be more affordable in the city.
"Today, New York City's leaders made a loud and clear statement: No matter where you live or how much money you make, New York City is here for you," Andrea Miller, president of the National Institute for Reproductive Health Action Fund, told the Cut in a statement.