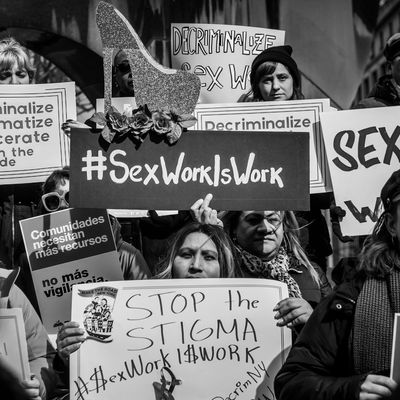 Decrim NY rally.
Photo: Erik McGregor/Pacific Press/LightRocket via Getty Images
In a historic first, New York could become the first state to fully decriminalize sex work.
Since February, a sex worker–led coalition of 30-plus organizations known as Decrim NY have been working toward this goal alongside a handful of New York state legislators. This morning, they took a major step forward when they introduced a first-of-its-kind bill, drafted by Decrim NY, that would decriminalize the sex trades in New York.
Decriminalizing sex work is supported by a slew of human-rights organizations, including Amnesty International and the World Health Organization — and, more importantly, sex workers themselves have been calling for it for decades now. They argue that laws that prohibit the buying and selling of sex do nothing to protect vulnerable populations, but rather make it so that those in the sex trade are far more likely to face violent or exploitative conditions. For the most part, though, politicians have been loath to listen to their concerns. Last year, this resulted in the passage of SESTA-FOSTA, a purported "anti-trafficking" bill that has made it increasingly difficult for sex workers to conduct business safely while doing very little to help anti-trafficking efforts.
"Sex work is work and should not be criminalized by the state," said Julia Salazar, a New York state senator who campaigned on an unabashedly pro–sex worker platform and one of the legislators who introduced the bill. "Our current policies only empower traffickers and others who benefit from keeping sex work in the shadows. New York State needs to listen to sex workers and make these common-sense reforms to keep sex workers safe and empower sex workers in their workplaces."
The bill, titled the Stop Violence in the Sex Trades Act, would strike down a host of New York state laws that sex workers say seriously endanger their livelihoods and lives. Per The New Republic, it would remove criminal penalties related to the buying and selling of sex and would get rid of charges related to "promoting prostitution," which can be used to penalize sex workers for working together or even for helping each other screen clients. Furthermore, anyone who has previously faced arrest or charges related to sex work would see those offenses removed from their records.
"I've been waiting for this day for like 30 years," Cecilia Gentili, a former sex worker and Decrim NY member, said at the press conference. "I have been in Rikers Island, and it's not an experience I would wish on an enemy, not even my worst enemy."
Under current laws, sex workers say that they're subjected to widespread housing, employment, and other forms of discrimination, all for simply attempting to do their job in the safest way possible. This is especially true for black women and transgender people: In New York, for example, black women make up a whopping 94 percent of "loitering for the purposes of prostitution" arrests — a law that authorities use to target women of color for often totally legal activity, activists say. (According to a 2016 lawsuit, police have targeted women for actions as mundane as wearing "a skirt and high heels" or "tight black pants.")
Over the next year, it's highly likely that the bill will face significant challenges. At the very least, though, the fact that this legislation has been introduced will compel politicians and other activists to educate themselves on the issue, or so advocates hope.
"Neither young people nor adults should have to trade sex to meet their needs," Jessica Raven, a former sex worker and Decrim NY steering member, wrote in a Daily News op-ed coinciding with the bill's introduction. "But until safe housing and a living wage are accessible to everyone, many of us will continue to sell sex to survive. In the meantime, we must decriminalize sex work so that it's safer for the people doing it."