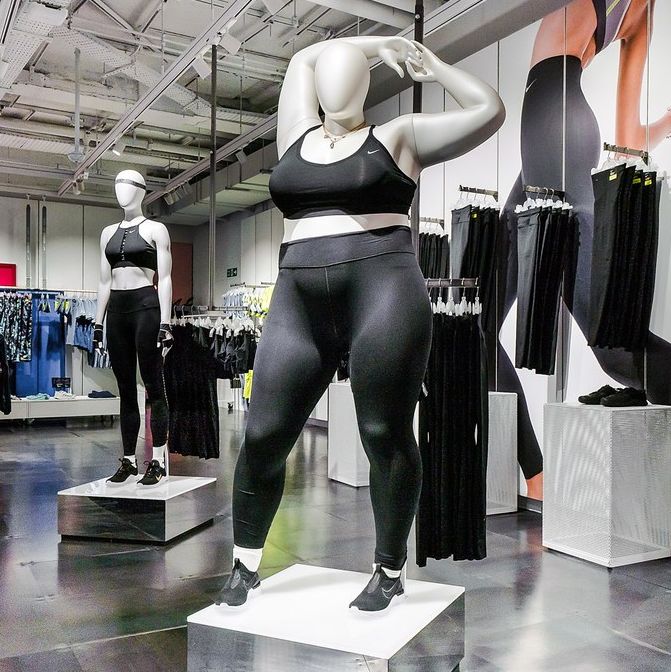 Nike's flagship store in London got some new mannequins this week as part of a larger redesign. Some of the mannequins are the usual thin, muscular plastic bodies that have for so long been the only things in stores. But some of them, awesomely, are not. The store now has parasport and plus-size mannequins too. Meaning people with bodies that don't look like, well, mannequins (up to this point) can finally see themselves represented. It's great, as painful as it is to congratulate a corporation. Good job, Nike.
But as quickly as the press release hit the news, the backlash began with a gross op-ed from a female writer declaring that the larger mannequins were selling a lie. (I'm not going to link, but The Telegraph ran it if you're inclined to give them your clicks.) Her piece says the woman whose body looks like that mannequin is unhealthy and at risk of illness and death and, certainly, not about to pull on a pair of leggings and a sports bra and go do something athletic. It reads like classic trolling. Classic and effective, given the immediacy of the backlash to the backlash. "I work out six days a week. I am fat. I wear workout clothes while working out. The world continues to turn. Shut up," Roxane Gay tweeted in response.
A brief note about the piece's writer. A decade ago, she wrote a piece detailing the lack of options and how poorly she was treated while visiting designer stores in London as a size 16 woman. A piece of knowledge that makes it all the more clear how disingenuous her Nike op-ed is. It's designed to make us mad so we'll share it. It's designed to make me, a woman who ran the New York City Marathon last year in a pair of Nike spandex shorts in a size XL, mad enough that I'll write a piece rebutting it.
And, more importantly, it's distracting us from the real issue here. Nike finally put a mannequin that looks like me, and so many women I know, into one of its stores. Fantastic. A mannequin modeled on the bodies of bigger women everywhere who wear athletic clothes to run and swim and bike and sweat and climb and also to just sit around and be comfortable. (The right to wear gym clothes with no intention of working out does not belong solely to the thin.) It's great to see those bodies represented. Now it's up to us to urge them to get hundreds more, and to put them up in stores around the world, and then make sure that for every size 4 mannequin a customer walks by, they also walk by a size 18. (Only a few stores, like Old Navy, currently use bigger mannequins alongside smaller ones.) And to pressure other brands to follow suit by spending our money strategically.
Nike isn't doing something impressive here. It is doing what it needs to in order to get women with bodies bigger than a size 12 to fork over their cash and buy swoosh-covered products. And it's doing so from behind the curve. The company first launched its plus-size line in 2017, which includes sizes from 1x to 3x. But other companies in the activewear space have been size inclusive from the get-go, like Girlfriend Collective, which now carries leggings up to a 6x and has always made a concerted effort to showcase bodies of all sizes in its ads. If Nike wants to stay competitive, a few plus-size mannequins are the least it can do.