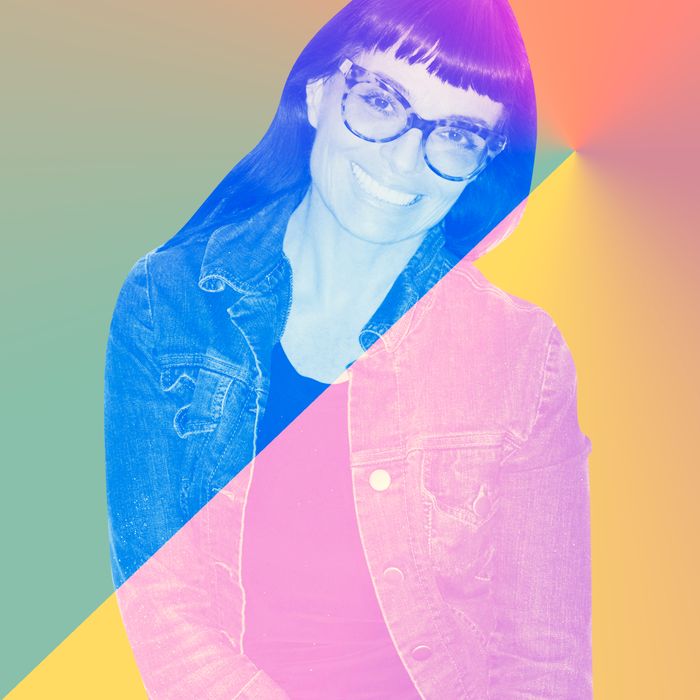 When Norma Kamali was growing up in New York's Yorkville section in the 1950s, her mother kept a juicer in the kitchen that was the size of a car engine.
"We lived in a tiny apartment, and my bedroom was next to the kitchen," she recalls. "She would turn that thing on, put the carrots in, and the entire apartment would vibrate. And that was how I woke up every morning."
Decades ahead of her time, Kamali's mother also did calisthenics and took loads of vitamins. It was a lifestyle that often embarrassed her daughter.
"I'd be like, 'Mom, my friends are coming over. Can't you hide all those vitamin jars?' And she'd say, 'Of course not. This is my house. Leave if you don't like it.' So, sometimes, I would. I'd head to the river with my sketchpad," she shrugs.
"So, I guess it worked out. Now, of course, when I look in the mirror, all I see is her."
Kamali has always been ahead of her time, too. She opened her first shop in 1967 (with $98 to her name). She made coats out of sleeping bags, dresses out of parachute material, and decades' worth of famous swimsuits, including the red maillot Farrah Fawcett wore in that iconic pinup poster (which is now housed in the Smithsonian).
After losing two of her closest friends to AIDS in 1980, Kamali immersed herself in wellness education, studying with Andrew Weill. In 2000, she opened a wellness cafe, where she sold juices (thanks, Mom!), olive oil, and soap you can use in lieu of toothpaste. A practitioner of transcendental meditation since the 1970s, Kamali closes her store, now on East 56th Street, every day at 12:30 p.m. so the staff can meditate together.
"There's a real change of behavior afterwards," she smiles. "Less running for coffee, less junk food, more of a sense of calm and thankfulness."
Her newest venture is Normalife, a line of wellness, lifestyle, and skin products, the last of which drops at Barneys and Selfridges next month. The collection is simple, gender-neutral, and formulated with safe ingredients. There is the charcoal and aloe-based Clean; Smooth, a gentle, charcoal, and finely ground olive-pit scrub for face and body; Soft, a moisturizer, and Glow, a rosy-bronze tint that gives an allover warmth to darker skins, or can be spot-applied on cheekbones for paler types.
Kamali's not promising age-reversal kinds of miracles here; to her, it's more about the ritual of a dry-body scrubbing with Smooth before stepping into the shower, or giving your beloved a foot massage with Soft.
"I really believe the simpler the product, the easier it is to use, and the more effective it is," she says. "The simplicity of the ingredients means they're timeless. And just like timeless clothes, you have them forever."
Kamali spoke with the Cut about the magic of acupuncture facials, her obsession with AI and how the newest addition to her living-room wall both wakes her up and puts her to sleep.
What's your definition of beauty? Beauty is believing in your authentic, individual features, personality, and spirit.
What do you think when you hear the term "clean beauty"? A desire to present safe products that work for women.
Where, if anywhere, in your beauty (or life) routine are you not quite that "clean," "green," or "sustainable"? I am pretty much clean, green, and sustainable. However, this is a work in progress for everyone. We can always find another way to recycle, source, and modify behavior. Perfection comes with knowledge.
I think about _______ a lot. How to live a healthy lifestyle.
What is the opposite of "beautiful"? Poor self-image.
What is your morning beauty routine? Wake up early, take my time, usually hot lemon water with ginger but understanding some benefits of coffee, I'm trying cardamom coffee once a day. Shower and wash with Normalife Clean, pop of color with Normalife Glow, some brow/lash mascara, lip-stain balm from Hurraw!, brush my hair wet or dry and work in Pai-Shau hair mask.
What's the last beauty product you use every night? Normalife Soft since 1993.
Who cuts your hair? I do my bangs every two weeks and have my ends trimmed by friends with scissors.
Facialist? No regular person, but I do weekly acupuncture face lifts. I love the long-term results when doing regular treatments. I started 12 years ago.
What aspect of your beauty routine tends to be neglected? More down time, but meditation helps.
What do you line your eyes with? I'm not loyal to a brand, but with a pencil I found in Marrakesh.
Base of choice: Never any.
Facial cleanser of choice: Normalife Clean and Smooth.
Fragrance of choice: My own scent.
Preferred sunscreen: Any, so long as it's SPF 15.
Deodorant of choice: Agent Nateur.
Bath or shower? Shower, with Normalife Clean or Smooth.
Shampoo/Conditioner of choice: Pai-Shau.
What beauty product still needs to be invented? More nutritional powders for internal support of the skin.

What was your first beauty product obsession? How old were you? How did you discover it? Black eyeliner and white lipstick at 14. The liner was probably Maybelline, and the lipstick was so disgusting, it looked like zinc.
Work shoe of choice: Converse sneakers or wedges.
Weekend shoe of choice: Sneakers, or James Perse slides, or bare feet.
What is your classic uniform? Jumpsuits that can be washed.
Who or what are you currently intrigued or obsessed with? I'm pretty much obsessed with futurists.  
How do you get your news? I listen to everything from all sides and points of view until I can't take it anymore.
How do you like your bed? Big, fluffy, and white, like floating on a cloud.
How do you like your living room? Minimal and zen.
Any hidden or secret talent or skill you possess? People know little about my obsession with virtual reality, artificial intelligence, and the future.
If you could have infinity anything, what would it be? I understand the cells reproduce until 120 years old. Therefore by having that as a goal, I must behave respectfully to my body. I'm not sure if I will reach my goal, but the intention might help me overall in the long run.

What was the most recent interesting conversation you had? An artificial intelligence tutorial, and it made my head spin.
What tiny thing can make your day? A sense of humor!
What annoying thing can put you in a bad mood? A long winter.

What word do you overuse? So.
Favorite smell? My own fragrance.
Least favorite smell? The beach.
What do you think Pantone's color of 2020 should be? In my mind it's an ever-changing color. I'm obsessed with color therapy right now, and I just installed an LED wall in my apartment. I wanted to create some beautiful digital art, but as the baseline, I want the LED wall to start the day with blue, which is awakening, then morph, morph, morph, morph into red, which puts you to sleep. So, to me, I think of color an as ever-changing spectrum rather than one.
What do you most often disagree with others about? I learned to listen and accept and not be judgmental, so I have a more diverse group of friends and I think I am smarter as a result.
What can't you leave alone? My dachshund, Zeke.
What is the biggest tip you can give that will change people's lives? Know your purpose in this lifetime, and all the decisions you make will make sense over time.
Favorite meal and where: ABC-V Elegant Vegan by Jean George! Yowza.
What is always in your fridge? Probiotics.
Comfort food: Nut-seed bread.
Vice snack (or just vice): Olive-oil popcorn.
Most impressive dish you make: Colorful veggies with healthy delicious dips — simple.
What food would you never eat? Meat.
What TV show is on your to-binge-watch list? Jerry Seinfeld's Comedians in Cars Getting Coffee.
What do you foresee as the top beauty trends for the remainder of 2019? And please explain? More CBD in everything because it is where the money is?! Yikes.
What product in your domain is misunderstood and should be a best seller? My tooth soap. It cleans and removes bacteria in the same way the pulling technique does.
What do you want? To develop a digital teaching mechanism for students to learn from thought leaders all over the world, for credit, starting in kindergarten.