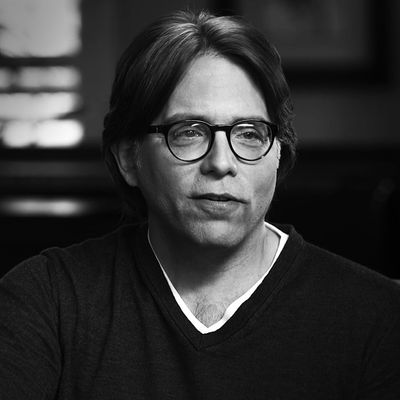 Keith Raniere.
Photo: Keith Raniere Conversations/Youtube
Just over a year after being arrested on suspicion of running a sex cult, NXIVM founder Keith Raniere has been convicted.
On Wednesday, jurors in Federal District Court in Brooklyn found Raniere guilty on all seven criminal charges against him, including sex trafficking and racketeering, the New York Times reports. While NXIVM purported to be a "self-help" organization, federal prosecutors say that it was instead a front for a sex cult they say manipulated women, subjected them to ritual humiliations, monitored their caloric intake, and branded them with Raniere's initials.
"With his inner circle, he was the ruler in his universe," prosecutor Moira Penza told jurors during her closing statement. "A crime boss with no limits and no checks on his power."
Raniere's lawyers had argued that the sexual acts in which Raniere was involved were consensual, and that women joined NXIVM of their own volition. During lawyer Marc Agnifilo's closing statement, he said of Raniere, "You might find a lot of things about him distasteful … But most of them aren't part of the charges."
Since early May, former high-ranking NXIVM member and sex slaves have taken the stand to deliver harrowing testimonies against Raniere, with particular focus on DOS, a hierarchical group comprised of "masters" and "slaves." In one testimony, a former slave claimed that Raniere blindfolded her and permitted another woman to sexually assault her; another woman testified that Raniere took photos of her that "mostly featured [her] vagina" and performed oral sex on her. Even before Raniere's trial started, the five other people charged for their alleged involvement in NXIVM — including Smallville actress Allison Mack, who admitted in court to being a leader in the secret master-slave "sorority" — pleaded guilty to the racketeering charges against them.
"I'm very sorry for the victims of this case," Mack said during her guilty plea. "I'm very sorry for who I've hurt through my misguided adherence to Keith Raniere's teachings."
Now, Raniere awaits his sentencing, which is scheduled for September. He faces life in prison.