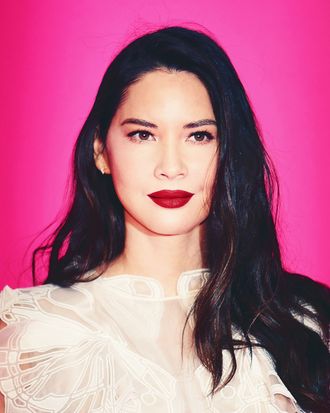 Olivia Munn, dog investigator.
Photo: Stephane Cardinale - Corbis/Corbis via Getty Images
Actress and Japanese sweet-potato devotee Olivia Munn hates blogs, but alas, here is a blog we must share with you, one full of sweet dogs, kidnapping, the dog-walking app Wag, and also Olivia Munn.
According to "Page Six," Munn was brought in to deal with an alleged dognapping (!) this week, after a Manhattan couple said their Shih Tzu–Yorkie mix Benny was kidnapped — perhaps, they thought, by a Wag walker. Munn, who is an investor in Wag and also its "creative strategist" (quotes from "Page Six") reportedly spent hours on the phone with the distraught couple, consoling them and providing whatever information from Wag that she could.
Turner and her partner discovered Benny was missing when a Wag walker showed up at their Battery Park apartment for the dog's scheduled 1:30 p.m. walk, and found that the dog wasn't there. When the couple rushed back to check the security tapes in their building's lobby, they saw that an unknown man had entered the building around 11 a.m., and then left with Benny.
"She was up with us at 4 a.m. until 6 a.m. just trying to talk through everything and figure out a game plan," Sophie Troper, Benny's owner, told "Page Six."
The only spare key to their apartment is in a lockbox on their door that can only be accessed by Wag walkers, they said, but they didn't recognize the man in the video as a walker they had worked with before.
"He's neutered so we have no idea why someone would want to take him, we just don't know what to do," Troper said, adding that they'll stop at nothing to find him.
It is unclear how active a role Munn, in her capacity as Wag's "creative strategist," will play in the dognapping investigation going forward. The Magic Mike actress came on as a Wag investor in 2017, saying she felt a personal connection to its mission to improve the lives of dogs and their owners.
"We are delighted to partner with Olivia Munn," Josh Viner, the CEO and co-founder of Wag said in an announcement at the time.  "Her creative input, and her passion for our goal — to give dog owners peace of mind that their dog will be walked by a safe and trusted walker — makes this a great partnership."
The announcement made no mention of Munn's role as an investigator.
Hopefully, Benny will soon be returned home safe and sound and, as always, sorry for blogging.