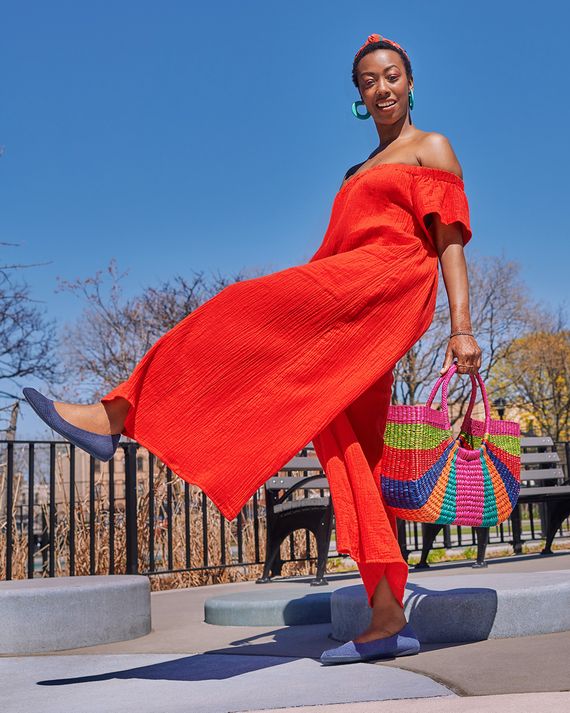 Dominique Drakeford is on a mission to change the face of sustainability. Born and raised in Oakland, California, Dominique changed coasts to earn her master's degree from NYU in sustainable entrepreneurship and fashion. She now works in Brooklyn as an environmental educator and writer, with a special focus on empowering communities of color. Through her initiatives Melanin & Sustainable Style, Sustainable Brooklyn, and her own social presence, Dominique is broadening awareness around environmental issues, championing inclusivity, and bringing her own electric energy to the movement.
For a creative entrepreneur whose work often finds her quite literally on her feet all day, criss-crossing the city from panels to photoshoots, striking the right balance of comfort and sophistication is key. We spoke with Dominique about her passion for sustainability, how she builds her style to reflect her values, and how playful-but-polished staples like Allbirds get her through her busiest days. Read on for more from the woman who's bringing a whole new boldness to eco-fashion.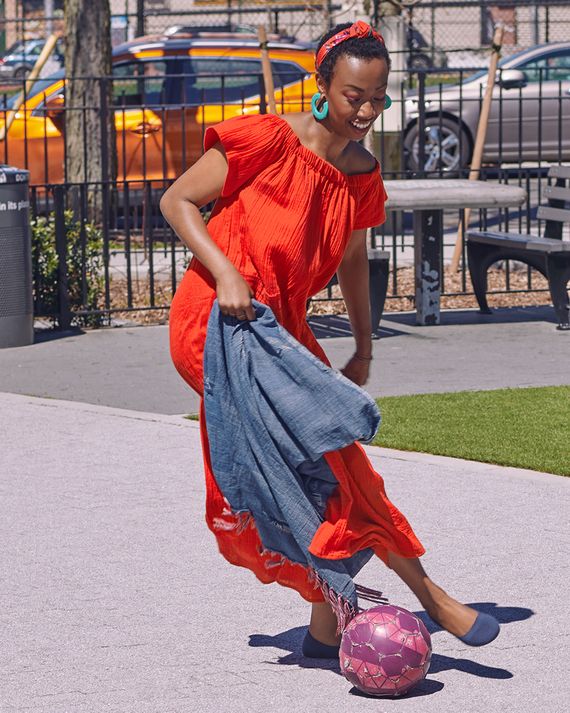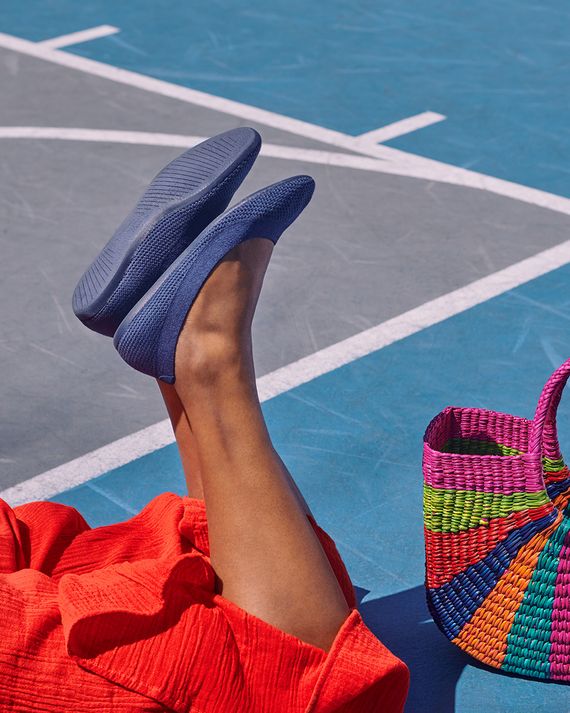 On her mission: I've had tunnel vision on sustainability for over 10 years, but I always knew I didn't want a standard, corporate 9-to-5 job. I'm working to create my own spaces where I can not only promote sustainability, but also disrupt the traditional movement, and uplift women and communities of color. I want to open up the conversation around sustainability, make it more diverse, more stylish, so it can connect to more people.
On her style: My style is one of the ways I deliver my message, and I always want it to reflect my values and identity. It's also the culmination of my personality and moods. I don't plan outfits — I like the energy of the day to inform what I wear. One day I'll wear something regal and confident, another day I'll go for relaxed sophistication. Or I'll do a retro '70s look, or something inspired by artsy black revolutionaries. I love pulling in different cultural references and making it creative and fun. I never take fashion too seriously.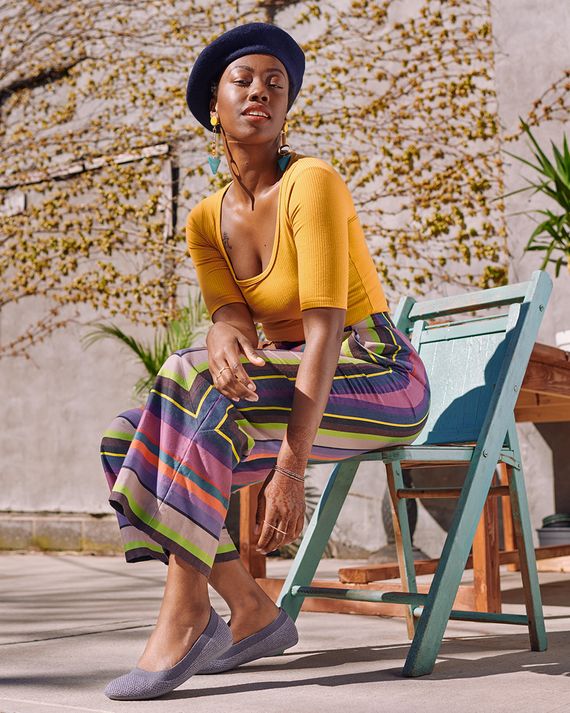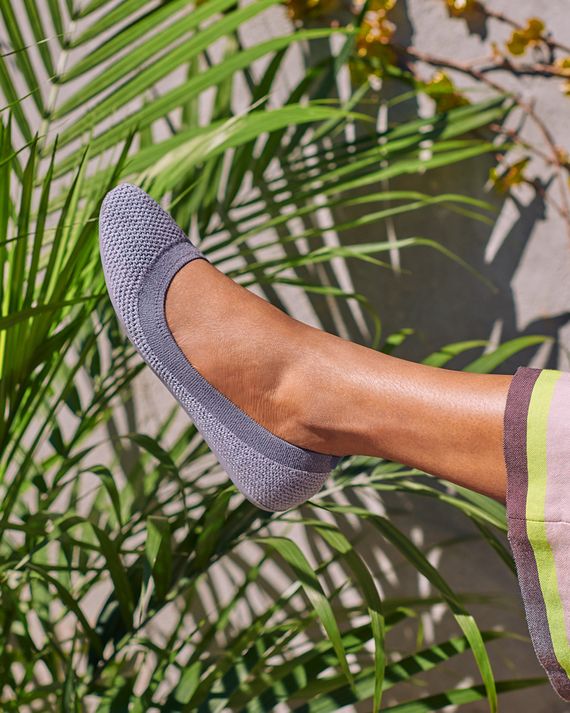 On her go-to flats: No two days are alike in my line of work, and I'm often on my feet literally from day to night. So whether I'm heading to a meeting, on set for a photoshoot, speaking on a panel, or just enjoying a beautiful day, I need pieces that don't limit me and my mobility. As much as I love sneakers, sometimes you need something a little more polished. I can slip on [these] new Allbirds Tree Breezers when I'm rushing out the door, and I know I'll feel supported and comfortable throughout my day. They're a step up from a sneaker, so you can wear them with an outfit that's more elegant. They're super versatile and just work for my lifestyle. I love pieces that keep up with me — that feeling of "nothing's going to slow me down."
On her colorful wardrobe: People in the sustainable fashion world sometimes overdo the earth-tones thing. I like to draw inspiration from nature — which, yes, sometimes it's green and brown, but it can also be a vibrant red flower. Color has always been important to me, and for many women of color it has special meaning as a symbol of joy and liberation. I'm all about the electric lavender-pink shoes [worn on this shoot]. A radiant color brings a certain level of energy to your spirit.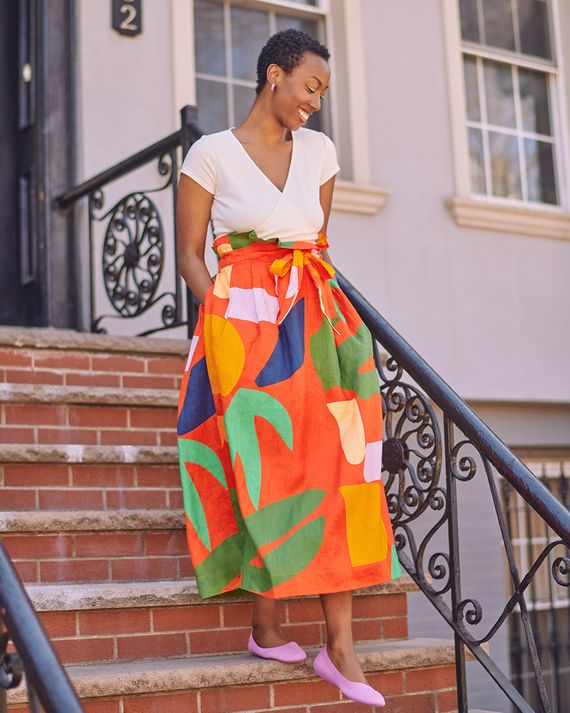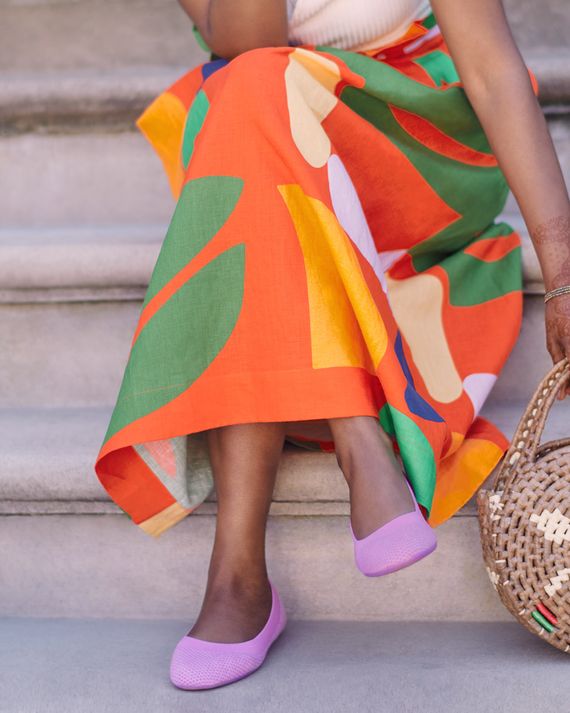 On sustainability: My work and my entire being revolves around living a sustainable lifestyle and encouraging others to do the same, so those ethics have to inform my style. For me it's about not being a part of disposability culture. That means consuming carefully, choosing brands that use renewable materials, being intentional about the way I build my wardrobe. Taking an even broader view, I also think about, how are we sustaining ourselves and our communities? Cultural sustainability is important to me — I try not to leave the house without wearing something by a person of color.
On comfort: Comfort aids in my productivity and has always been part of my style. Growing up in Oakland, sneakers were huge for me, and in hip-hop culture in general — it's all about having those great colors, being comfortable, the feeling of confidence and movement they bring to an outfit. I started wearing Allbirds because they have that same energy in an ethical way. It brings together my identity and my values. I definitely don't believe you have to compromise style for comfort. Comfy footwear still has to be fly!
This is paid content produced for an advertiser by New York Stories. The editorial staff of The Cut did not play a role in its creation.