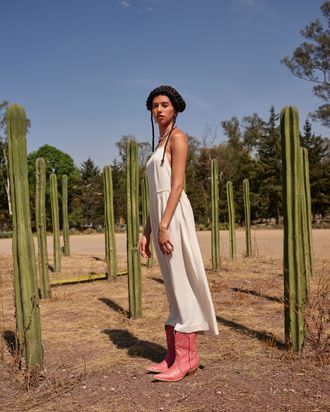 Photo: Courtesy of Opening Ceremony/Maroon World
As its name implies, Opening Ceremony prides itself on, like the Olympics, bringing together designers and creators from around the world. Every year since 2002, founders Carol Lim and Humberto Leon have "hosted" a different country, offering exclusive pieces from the region. Today, they announced that 2019 will be the Year of Mexico.
"Since we were young, we have enjoyed going to Mexico to visit and explore," said Leon, who is a California native, along with Lim. For this most recent curation, they scoured various bazaars and markets throughout Guadalajara and Mexico City.
"Especially given the current political landscape, with so much negativity about Mexico in the news, this seemed like the perfect time to focus on and celebrate the beauty and diversity of this country," Leon added. In addition to providing a platform for designers in the U.S., Opening Ceremony will also partner with the Mexican nonprofit organization Fondo Semillas, which is the largest fund in the country dedicated to women's causes.
The Year of Mexico will feature names like Barragan and Tuza, which already have a U.S. presence, as well as hand-thrown homewares by Taiga Ceramica, locally made cowboy boots sourced by Baby Angel Boots, and brands found at Hi-BYE, a store in Mexico City, like Worldwide Limited, Roberto Sánchez, and Wurst.
Below, a selection of the wares shot by Cynthia Cervantes and Travis Gumbs of Maroon World.