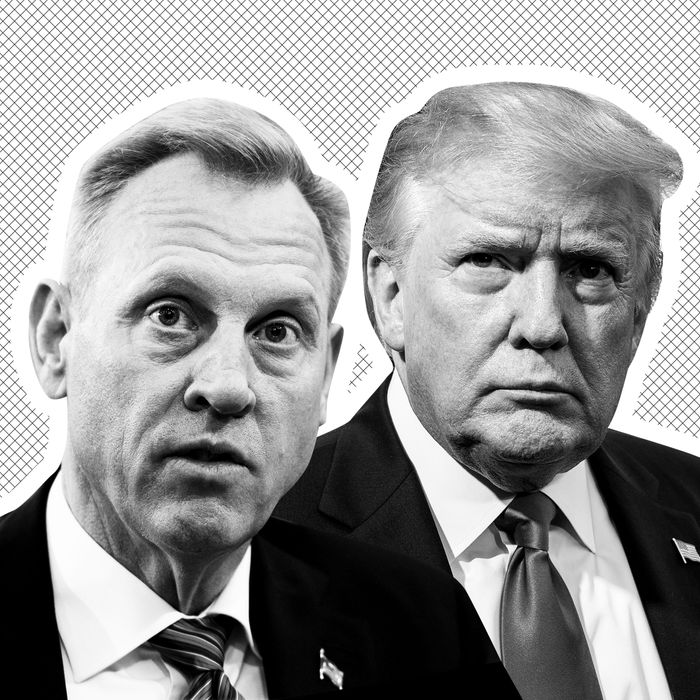 Acting Defense Secretary Patrick Shanahan is not the first Trump administration official to resign over domestic violence allegations, which he did on Tuesday, ending his consideration to be appointed officially to his position. Rob Porter enjoyed a top spot in Trump's White House inner circle before both of his ex-wives accused him of violent physical abuse. A Trump administration speechwriter, David Sorensen, resigned after his ex-wife told the Post that he'd put out a cigarette on her and ran over her foot with a car. Police in Santa Monica, California, charged Steve Bannon with domestic violence. Andrew Puzder, Trump's original pick to be secretary of Labor, pulled out of contention after reporters unearthed his ex-wife's accusations of domestic violence. All these bad men, all linked to Trump; the incidents look like a pattern, not a coincidence. Perhaps there's something about Trump himself that draws these men to him. Long before President Trump admitted to grabbing women by the pussy, his ex-wife Ivana claimed he once raped her. She's one of 23 women to accuse the president of sexual misconduct.
Shanahan, at least, is not accused of that particular act of violence, and his family's history of abuse is somewhat more complex. His wife Kimberley Jordinson alleged he punched her in the stomach, but he told the Washington Post that she started it, and she police arrested Jordinson for assault. According to USA Today, prosecutors later dropped charges against her, and she still insists that she was telling the truth.
Whatever you think of that incident, Jordinson is indisputably the victim of at least one harrowing act of violence at the hands of her son, William. The Post reported that William once beat his mother in the head with a baseball bat until he fractured her skull and knocked her unconscious. As she lay in a pool of her own blood, William pulled the family's telephone out of the wall so no one could call 911, and fled. But Shanahan worked to keep his son out of jail, and claimed the teenager had simply acted in self-defense — as if Jordinson herself bore some responsibility for the brutal attack. She had "harassed [William] for nearly three hours before the incident," Shanahan wrote to Jordinson's brother, according to the Post. Jordinson may have had cause to be upset: Her son, a teenager, was allegedly involved with a woman nearly 20 years his senior. But at William's trial, his attorneys cited his athletic prowess and his father's job at Boeing as proof he had "dreams" and a "future," and his father's influence insulated him further as time passed. The Post says he later attended the University of Washington after his father joined the school's Board of Regents.
Shanahan told the Post that he regrets calling his son's attack an act of self-defense. But he still seems worried for his son. Tuesday's reports, he complained to the Post, will ruin the young man's life. Maybe one violent act shouldn't ruin a 17-year-old's life. If you believe in any form of restorative justice, the answer to a problem like William Shanahan isn't to lock him away until incarceration breaks him, but to rehabilitate him, and provide him the mental-health care he evidently requires. But Shanahan senior's involvement in the case make his son's fate look more like impunity than rehabilitation — and that's a common enough story in the Trump administration. Confronted with the issue of domestic abuse, the president and the officials who work for him either ignore it or downplay its severity. Trump, after Porter and Sorensen resigned, worried publicly about false allegations:
The Department of Justice has even narrowed its definition of domestic abuse, reducing it from a comprehensive understanding that included a wide range of controlling behaviors to "only harms that constitute a felony or misdemeanor crime," as Slate reported in January. Migrant women can still claim asylum for domestic abuse, but that's despite the best efforts of former Attorney General Jeff Sessions, who ruled in 2018 that abuse should no longer be grounds for asylum. ( A judge eventually reversed Sessions's ruling.) Porter resigned, but his byline reemerged in the Wall Street Journal. Abuse allegations haven't slowed Bannon — and they didn't prevent Trump from becoming president, which reveals a much broader problem. Domestic abuse isn't a partisan issue; it is as universal as the prejudice that fuels it. Misogyny is only one of the sins the Trump administration tapped into and then amplified to the world.