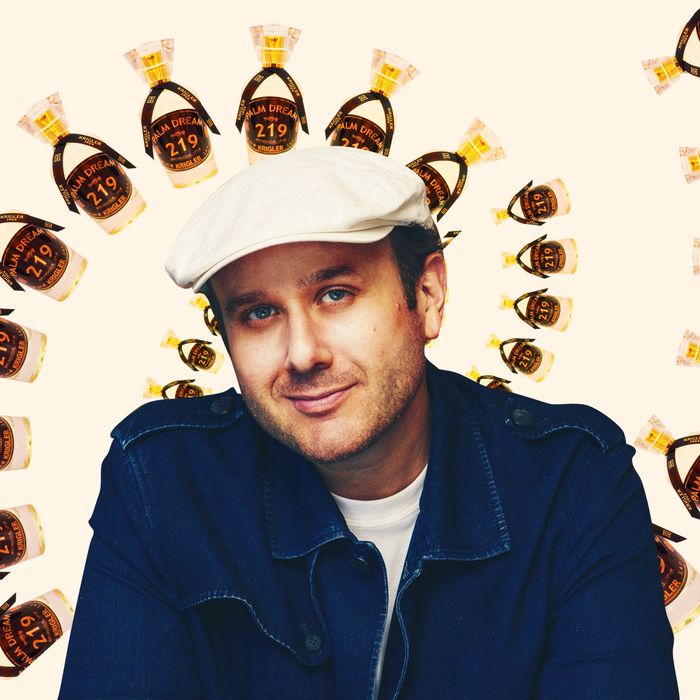 Photo: Courtesy of the Retailer
Call it the Proust effect: Memories are often triggered by smells. Scientific studies confirm that, of all the senses, smell offers the best recall. In Scent Memories, the Cut asks people about the scents they associate with different times in their lives. Next up is Ben Krigler, the fifth-generation owner of storied fragrance house Krigler known for its iconic fan base (F. Scott Fitzgerald, Audrey Hepburn, FDR) and sweet digs (The Plaza Hotel in New York, The Four Seasons in Beverly Grove, Hotel Adlon Kempinski in Berlin). This month, the house launched Palm Dream 219, a unisex blend of orange blossom, leather, and Orris root, one of the most expensive fragrance ingredients in the world, to coincide with the opening of the newest Krigler Boutique inside the Four Seasons Palm Beach Hotel. The Cut caught up with Krigler to talk leather, so many lemons, and giving the smell of NYC garbage a chance.
My first scent memory is: My mom and her scent. It was a mix of Pleasure Gardenia 79 and Chanel No. 5.
Happiness smells like: Cab d'Antibes. It's my childhood place and whenever I go there, it smells like this mix of ocean, trees, and flowers that is unbelievable. I've tried to put it in a bottle, so the best way I can describe is Extraodinaire Camelia 209.
Love smells like: A body. So I would say amber or sandalwood — something deep and something warm, because love is about warmness.
Friendship smells: Cozy and comfortable, so something with vanilla or almond; something that is sweet and woody and nice.
Heartbreak or loss smells like: Leather. A leather note is sometimes rough but it can also be a good way to start again and move on.
Success smells like: Champagne, so Sparkling Diamond 22. Success means that you accomplished something and you are in bliss, so it has to be something special, and something special, for me, is Champagne.
A pleasant surprise smells like: Lovely Patchouli 55. People always assume that patchouli smells like that funky patchouli from the 1970s, but when they smell this scent they're always surprised. For me, that's what a pleasant surprise is. When your brain imagines something, and then your brain turns out to be completely wrong and you experience something totally different. That's the best kind of surprise.
The worst smell is: There is no worst smell! Even the garbage of New York can be interesting. The garbage in a city tells you a lot of about the people who live there and who they are. Every scent is interesting; there is always one thing in one of the notes. Take oud for example, which comes from the Middle East. It took years for people to be accommodated to it. For the first years, people were like oh my gosh this smells terrible, I don't like it. And now, people are so used to it because they're educated about it. Something that is a terrible smell can eventually become a good smell because your scent and nose become more educated over time.
Vacation smells like: Mint and violet, if it's winter. I love the winter, I love the snow and I love to ski. If I could ski year round, I would. If it's summer though, I would say bergamot and cedar, because I like something citrus-y and fresh for that season.
Sunday morning smells like: Good Fir 11. It's made with peppermint, fir, fig, and ylang ylang. It's a very good scent for the morning because when you wake up, you need to breathe and refresh yourself. Your body gets warmer because you're moving, so you need to smell something that's going to make you feel comfortable, yet still give you a hit of energy at the same time, and that's the perfect scent.
Monday morning smells like: Bergamot. But luckily for me, my Monday mornings are not like everyone else's. It's just another a day, because I'm working all the time, but I love what I do!
My home smells like: Lemon. I have a bottle of Villa Bordighera 20, which we brought back from the 1920s. I'm also doing a lot of lemon juice, and drinking hot water with a lemon slice in the mornings. I don't know, I'm just in a time where I want to be purified by lemon. I'm doing a lot of lemon lately and I just love it at the moment. Maybe it's because I'm also working on a scent with it at the moment but I don't know, my home smells like it and it makes me happy.
If I had to have one smell on my hands forever, it would be: A perfume that I've created called Sierra Vista. It has notes of cedar wood and a bit of patchouli, but that perfume transcends me. It took me two and a half years to create, but it has the exact notes that make me leave my body and fly; it puts me in some form of levitation.
I smell like: Usually a potpourri of different perfume because I'm always layering different perfumes on myself all the time, and spraying more on without noticing. But at the moment, I really smell like Palm Dream because it's the perfume we just launched. I've been making a lot of bottles of that and they're all handmade, so my hands and my entire body smells like it.
If you buy something through our links, New York may earn an affiliate commission.