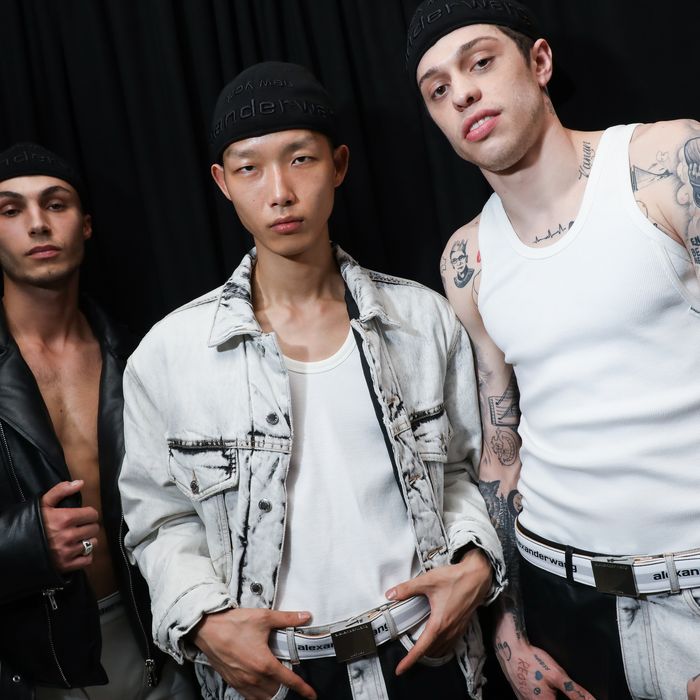 Photo: Courtesy Alexander Wang/BFA.com
It was 80 degrees on Friday night in New York City, but the ice-skating rink at Rockefeller Center was hopping nonetheless. In the large crowd: hundreds of tourists, all the usual fashion people, a large gold statue of Poseidon, and Pete Davidson, who was not in the area to film Saturday Night Live but rather to make a surprise modeling debut on Alexander Wang's spring 2019 runway.
Wang chose the classic New York location to showcase a collection dedicated to the pioneers of American fashion — designers like Donna Karan, Calvin Klein, and Ralph Lauren, who "paved the way" for Wang's generation, as he explained afterward. The show was divided into four sections, notably organized by race. The first 16 models were African-American men and women wearing Wang's take on tailoring, followed by mostly Asian models wearing "underwear as outerwear," then more models of color wearing preppy all-American looks, and, finally, Caucasian models like Kendall Jenner wearing all-white sportswear inspired by the Suffragettes. It was clear Wang was trying to make a statement about America's population — the way it's divided, and the way he hopes fashion can bridge those gaps.
Davidson, meanwhile, seemed to exist in his own universe. He walked onto the Rockefeller Center ice rink wearing a white tank top that showed off his numerous tattoos, a belt made to look like underwear elastic, and two-tone jeans — half-denim, half–black leather. He topped it all off with a backward baseball cap.
Not everyone could make such an outfit look casual, but Davidson shuffled onto the runway with natural model-like apathy, hunching his shoulders and jamming his hands in his front pockets as he walked. As the audience cheered — Diana Tsui, the Cut's senior market editor, grabbed my leg with such force that I thought she was choking — Davidson kept a straight face. At one point he bit his lip, which only made everyone swoon harder.
"I've always wanted to work with him," Wang told the Cut of Davidson's debut. "For this collection, I was like, 'Hey, Pete. Would you want to walk?' And he literally responded immediately like, 'Yeah, sure.' The whole time I thought he was going to chicken out and get too nervous and not want to do it, but he was such a sport and he killed it."
But Diplo, who sat front row during the show and is never one to hold back, had a different perspective on Davidson's debut. "Considering that he's a totally hot actor guy, he looked a little nervous," Diplo said afterward. "But he did good."