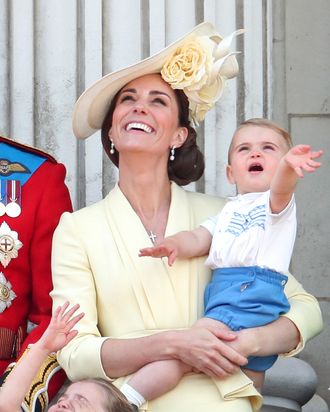 Kate Middleton and Prince Louis at Trooping the Colour.
Photo: Chris Jackson/Getty Images
Prince Louis may have just turned 1 year old a few short weeks ago, but the child has already achieved an important milestone: He has perfected the art of the royal wave.
The no-longer-elusive youngest child of Kate Middleton and Prince William, the Duke and Duchess of Cambridge, joined the royal family on Saturday for Trooping the Colour (British spelling intended), the queen's official birthday celebration. (Not to be confused with her actual birthday, which is in April.) There, he participated in the quintessential Trooping the Colour royal activity — the family photo call on the balcony of Buckingham Palace as planes fly overhead.
There, just like his sister, Princess Charlotte, before him, the youngest Cambridge child finally showed off his royal wave for the first time, and it went quite well (or rather, as well as a 1-year-old baby flailing his arms about adorably in a wave-like manner could go). See for yourself:
Also on the balcony were Queen Elizabeth (who showed off her royal wave, though she has been doing it for far longer than her great-grandson, of course), Prince Charles, Prince Louis's parents and siblings — the aforementioned Princess Charlotte and also Prince George — pretty much every other member of the British royal family you could possibly imagine, as well as his aunt and uncle, Prince Harry and Meghan Markle.
Prince Louis's new baby cousin — Archie Harrison Mountbatten-Windsor — was not in attendance, presumably for obvious reasons (namely, he was only recently born), but we can't wait to see Archie's royal wave eventually.