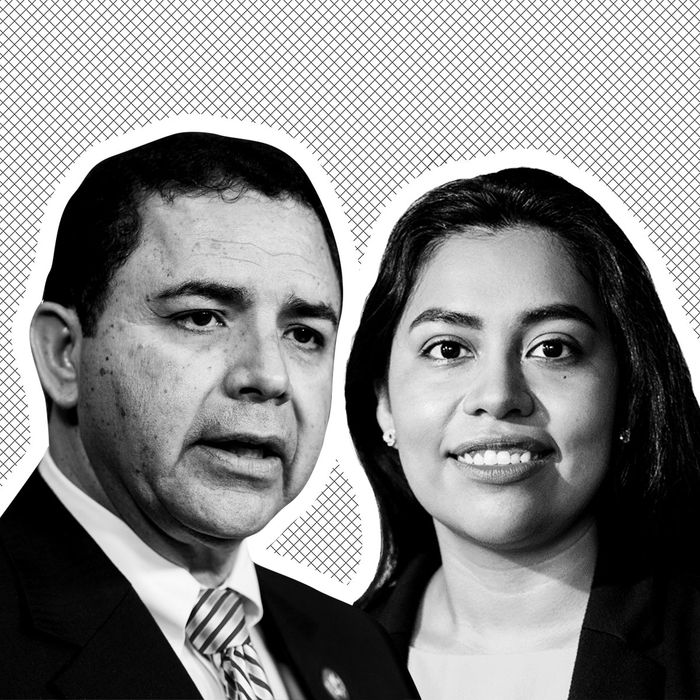 Henry Cuellar and Jessica Cisneros.
Photo: Jessica Cisneros for Congress/Facebook, Getty Images
Henry Cuellar is one of the most conservative Democrats in Congress. He has co-sponsored anti-abortion legislation, fund-raised for a Republican congressman who went on to defeat a Democratic challenger, and supported legislation that would withhold public funding from sanctuary cities. Now he has a primary challenger: Jessica Cisneros, a 26-year-old public defender and immigration attorney who formally launched her primary campaign on Thursday. She's running against Cuellar with the backing of Justice Democrats, the same group that helped organize Representative Alexandria Ocasio-Cortez's successful race against Joe Crowley. Justice Democrats had initially promised to primary Cuellar in January and created a fund to support an eventual race.
Cisneros is a strong candidate. A native of south Texas and the daughter of immigrants from Mexico, she's running on a thoroughly left-wing platform that includes Medicare for All, the Green New Deal, and abortion rights. On her campaign website, she writes that "every day in her work as a lawyer," she "is reminded of what she learned as a child: The rules of the game are not fair for most Americans." Her race will pit the appeal of her progressive platform against the power of a well-funded incumbent, and her campaign will challenge a prevailing theory: The Democratic Party supports conservative members like Cuellar in order to safeguard conservative and moderate districts.
Cisneros isn't the only candidate to bet against that strategy. In Illinois, Marie Newman is challenging Dan Lipinski, another anti-abortion Democrat, from the left. Her first run against Lipinski, in 2018, nearly succeeded, which undercuts his central justification for holding conservative views — that they mirror those of his constituents. But the same logic that insists it's an unacceptable risk to pressure Lipinski and Cuellar from the left presumes that charismatic candidates can't persuade voters with progressive rhetoric and that abortion rights are secure enough to tolerate anti-abortion representatives.
American voters are broadly in favor of access to legal abortion. But even if we accept that abortion is a fraught issue in some districts, there isn't much reason to think that Lipinski and Cuellar represent voters who would accept only conservative Democrats. Lipinski's district favored Hillary Clinton heavily in 2016, and he only barely defeated Newman. Cuellar told press in January that polling proves his district has a moderate tilt, but Clinton won the same district handily in 2016 and, as Roll Call reported in January, Cuellar himself won reelection with 84 percent of the vote. Republicans didn't even mount a challenge. In fact, the district has elected only Democrats to Congress since its creation in 1993, as the Laredo Morning Times notes. If his district is really so moderate, Cuellar should at least be facing legitimate threats from the GOP. Instead, it's the left, not the right, that senses his vulnerability.
Even so, Cuellar will be a difficult target. He's an eight-term incumbent, and there are two schools named for the representative in his district; two other members of the Cuellar family occupy local elected office. Cisneros will face resistance from the Democratic Party, too: Its congressional-campaign arm blacklists vendors that work with candidates who primary incumbent Democrats, a policy that cost Newman some consultants in the early days of her campaign. But that rule might not be enough to fatally damage the Cisneros campaign. In a press release, the campaign says it raised "over $80,000 from over 3,000 contributions, with an average contribution of $24," on the day of its launch. That's an impressive sum, and its origins contrast sharply with Cuellar's fund-raising strategy. The Cisneros campaign says that only one percent of Cuellar's donations in 2017 and 2018 came from small donors, while Sludge, a news site that tracks campaign finance, reported in May that Cuellar has routinely taken money from KochPAC, which is connected to Koch Industries.
As we saw with Ocasio-Cortez, it's possible for a young, persuasive progressive to best a powerful Democratic incumbent with relatives in local positions. Justice Democrats want to repeat Ocasio-Cortez's upset, and Cisneros may be just the right candidate in the right district to make it happen.