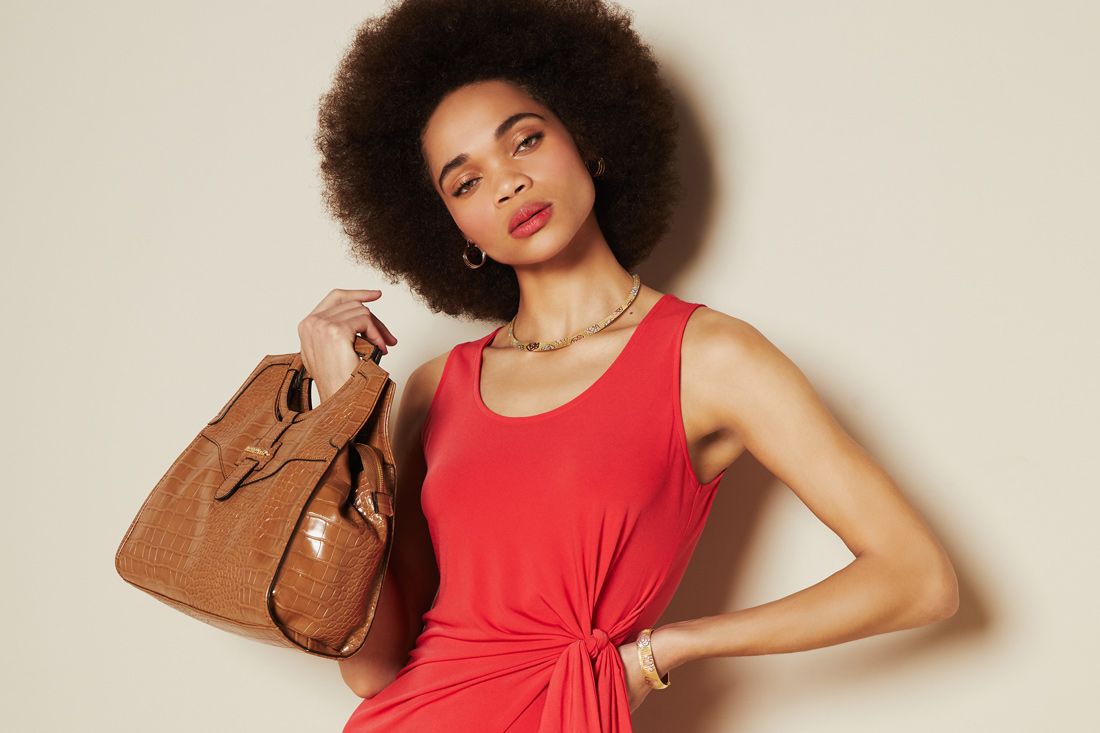 Photo: Courtesy of Ellen Tracy
"What's your style?" If you're multitasking forever and always, then that's probably not easily summarized in a couple words. And not because you don't have a point of view, but because for the busiest among us, your "style" has to adapt constantly, depending on what metaphorical hat you're wearing on a given day. (Just ask anyone who's ever juggled a board meeting, an anniversary dinner, and a trip to the DMV within the span of a couple days or hours.) But for people with crammed calendars, fashion can actually help navigate these conflicting demands. And the four bold yet put-together ensembles from Ellen Tracy below prove it.
Compiled from the brand's spring/summer collection, each outfit balances polish and playfulness. These looks are impactful, practical, and speak to your fashion-loving side as much as any other role you need to fill for the day. Thoughtful mentor, dedicated partner, skip-the-gym-and-catch-a-midday-movie goer — whatever the case may be.
For the Fifth-Meeting-of-the-Day Master
Owning that presentation in the boardroom can be as simple as perfecting a crisp trouser-and-cardigan-set combo. Add a sophisticated heel for polish, plus a few favorite pieces of jewelry to put your personal spin on a classic, take-command look.
Drape Front Sleeveless in White, $49.50 at Belk; Sterling Silver Pink Gold Plated Panther Link Chain Necklace, $139.99 at Amazon; Sterling Silver Stempato Rose Gold Plated Bracelet, $99.99 at Amazon
For the After-Hours Queen
Drinks with your crew or a long-overdue dinner with your partner calls for an outfit that's simple yet has punch. This figure-hugging dress in a take-notice shade is really a no-brainer.
Sterling Silver TriColor Rose Flexible Bracelet, $149.99 at Amazon; eyeglasses available at Go-Optic.com
For the Work-Hard, Play-Hard Weekend Traveler
Pack light when you can finally get away for a couple peaceful days. A printed jumpsuit is not only seasonally appropriate, but also an instant look. Simply finish it off with an easy heel for wandering around and a sleek, top-handle handbag.
Sterling Silver Stempato Rose Gold Plated Bracelet, $99.99 at Amazon
For the Brunch-to-Errands Acrobat
When one errand quickly turns into an entire day of running around, take an unexpected twist on a classic piece, like a pair of bright, tailored trousers. Make things even more special with a printed halter that can easily adapt to whatever spontaneous plans take shape.
All images courtesy of Ellen Tracy.
This is paid content produced for an advertiser by New York Stories. The editorial staff of The Cut did not play a role in its creation.