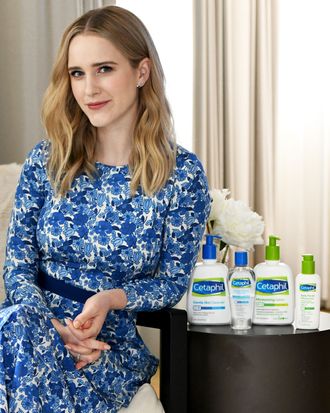 Photo: Craig Barritt/Getty Images for Cetaphil/Courtesy of Cetaphil
When she's not wearing the best clothes on TV as the star of The Marvelous Mrs. Maisel, Rachel Brosnahan is busy lighting up red carpets with her ethereal glow. So maybe it's not a surprise that cult-favorite skin cleanser Cetaphil just made her its first-ever celebrity face.
Brosnahan says she's a longtime Cetaphil user because she has sensitive skin — the brand is known for being gentle with even the most emotional complexions. The Cut caught up with her on the day of the announcement to talk about hydration, doppelgängers, and changing your hair while famous.
What's your nighttime beauty routine like?
Hydration is basically what my entire nighttime routine is centered around. If I'm coming from work with a lot of makeup on my face, I'll first remove some of the more makeup-y makeup with the Cetaphil Gentle Makeup Remover. Then, I wash my face with the Cetaphil Gentle Skin Cleanser, either with or without water depending on the type of day I've had. I have really sensitive skin, so if it's particularly irritated — if it's really hot or really cold out, for example — I'll use it without water. It leaves my skin feeling really soft and hydrated. If I feel like I need a slightly deeper clean, I'll use it with water.
I've been coupling that with the Vintner's Daughter Botanical Serum which I was introduced to a couple months back. A couple times a week, I'll use a mask after I take my makeup off and before I put the serum on. Joanna Vargas makes this Euphoria Face Mask that so good. It's just dripping with good stuff. I love that you pull it out and it's sopping wet. While I'm working, I try to keep my skin-care routine as simple as possible so that my skin doesn't get too irritated or inflamed.
What time do you go to bed?
It's never the same time. When I'm not working, I love to go to bed on the earlier side. My ideal bedtime if I could choose? 10 p.m. because I like to get up around 7 a.m., which would be my ideal wake-up time. That's eight hours, right? Oh, nine? Okay, that would still be ideal. When I'm working, our schedule changes everyday. On Monday mornings, I sometimes get picked up as early as 3:45 a.m., so I'm desperately trying to fall asleep at 8 p.m. on Sundays, which never happens. A couple weeks ago our call time was 6 p.m. and we shot till 6 a.m., so it's all over the place.
Speaking of bedtime and beauty, I still think about that scene revealing Midge's drawn-out nighttime beauty routine. Is there any overlap between you and Midge in how you approach beauty?
No. [Laughs] You know what? I think the one overlap is that we both approach beauty with a purpose, and in a way that makes us feel good, and feel powerful. For Midge, that means that she's transforming herself into what she thinks is the ideal woman, and for me … the same. But for Midge that involves about 150 products of every different kind you could imagine, and for me it involves, like, five. I would like to not have to spend more than 20 minutes getting ready in the morning or getting ready to go to sleep.
You've posted some solid #TBTs on your Instagram account, and it looks like in the past you also had really good skin. Was there anything you did back then to set you up for good skin now?
I've been using Cetaphil Gentle Skin Cleanser for more than ten years now. I've always had really sensitive skin that's easily irritated. I played sports in high school, and I'm from Chicago where the weather is all over the place. It's really hot in the summer and really cold in the winter, and I was struggling to find a way to balance my skin.
My mom introduced me to Cetaphil, told me to get rid of everything else, just stop and start over this way. And my skin's been changed ever since then. I realized from her that less is more, genuinely. Part of my skin-care journey has been finding the products that are right for me, and once I find them, I've really stuck with them. I think it's important to change it up every now and again, but the basics of my skin care have been the same since I was 16.
Has anything about your life, beauty-related or otherwise, drastically changed since you went lighter with your hair?
Everyone's confused. [Laughs.] I'm a natural blond, but I realized that nobody really knows that because I started working as an actor with really dark hair. And I'm glad that everyone bought it; that everyone thought I was a natural brunette … and now everyone thinks I drank the Hollywood Kool-Aid and dyed my hair blonde. I get confused for Evan Rachel Wood on a daily basis now. I don't think we look that much alike, but we finally met and took a photo together to prove once and for all that we're not the same person and were seen in a room together. Other than it's pretty new, we'll have to see …
The colors that I wear have changed a little bit. When I'm a brunette, I tend to stay away from pinks, particularly lighter pinks. I don't wear a lot of pastels, but with lighter hair it's been fun to wear different colors. The same goes for my makeup, I'm playing more with peaches, and pinks, and blush colors as opposed to bronzes, and warmer tones now.
What's your personal version of "self-care?"
Ever-evolving. The number-one rule is to listen to what you need in the moment and not necessarily have a prescription for "self-care." But a couple things that I do: I try to take time to do yoga, whether it's in my house or a class. I prefer to go out to a class because I like to be a part of a community doing yoga together. I spend time with my dogs. I pet them and take them to the park and spend a lot of time talking to them like the crazy dog mom that I am. And spending time with friends: We're all so busy these days, we're all following our dreams and fortunately having some degree of success, so a moment to sit down together over coffee or drinks and enjoy each other's company is a big part of my self-care.
How do you take your water?
Is this a test? [Laughs.] "How Hollywood are you?" However they've got it … however it comes. I don't discriminate, I like all kinds of water. Water is good for you in all forms. Just hydrate. I should be drinking more of it so, I'll take it. I do try to carry water with me at all times in a reusable bottle. So, water in a reusable bottle is how I take it.
And last but not least, what's your favorite snack?
I'm a big snacker, but my favorite snack is a rice cake with sliced avocado on it with a little bit of salt and pepper, and maybe some paprika if I have it near me. If not, salt and pepper is fine. And then, if I have the time and I'm somewhere this is available, I like to put chopped shallots on top.