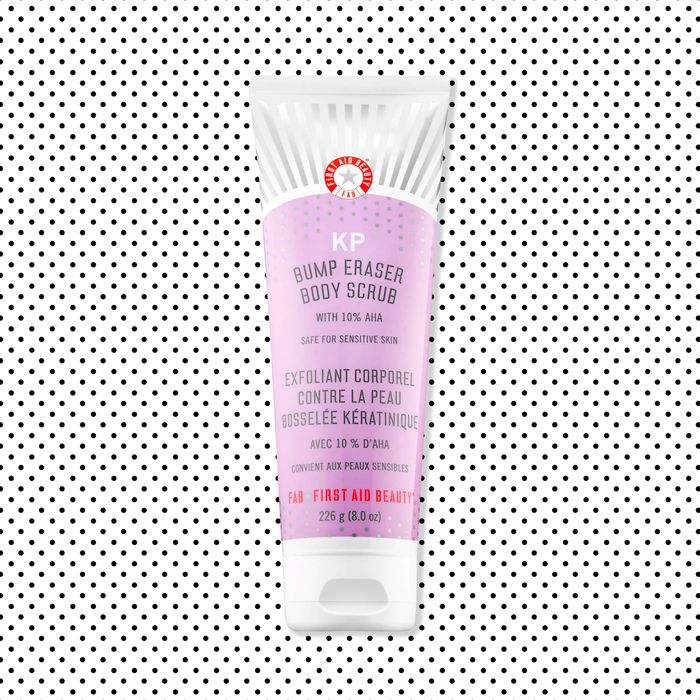 Photo: Courtesy of the Retailer
Exfoliating is the skin-care obsessive's favorite new high-intensity sport — a form of beautification that appeals to perfectionists and masochists alike. It's possible that we're all doing it too much, in fact … but not me, because I recently realized I've been walking out 15 minutes into class. Despite sloughing dead skin off my face daily with the dedication of a CrossFit trainer, I've somehow neglected to exfoliate my body, which makes up 80 percent of my skin suit. The telltale sign: My legs don't glow. They're downright dull, riddled with dark spots from bruises, mosquito bite scratches, and scrapes.
Splashing P-50 or retinoid all over your body is a millionaire's pastime. This exfoliating acid body scrub from First Aid is for the other 99 percent. Blissfully fragrance-free, it's made up of a paste of very, very fine pumice beads without any harsh edges or jags. There's also a healthy dose (10 percent) of good-for-you acids like lactic (the main one in Sunday Riley's Good Genes) and glycolic (seen in almost every other moisturizer out there) that helps to smooth your skin and blast away hyperpigmentation. And it comes in an easy squeeze bottle, so you can spread a nice, soft-serve-like swirl of exfoliating paste easily into your hand.
Don't use this if you have any sort of fake tan. It's so effective that it will remove that immediately, but also will slowly work on lightening dark spots (Sephora reviewers say it's great for keratosis pilaris too). Using this in the shower makes me feel like a slippery smooth seal who can't stop clapping my hands because my skin is so soft. It gives you that sleek feeling that comes when you shave our legs (even if you didn't).
Thanks to this stuff, my legs look nice and even, like my shins have been professionally polished. Even my kneecaps — the armpits of the legs — look less terrible. Coated in a gleamy body oil, they might even be ready to star in their own leg makeup tutorial.
If you buy something through our links, New York may earn an affiliate commission.