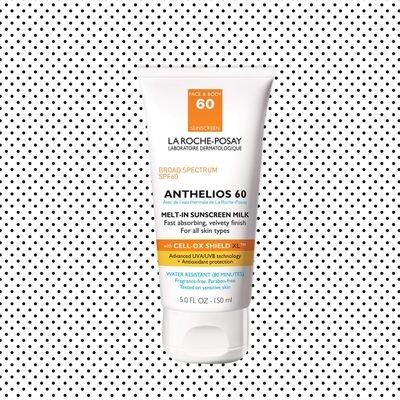 Photo: Courtesy of the Retailer
If this sunscreen was a supermodel, it would be Cindy Crawford. Much like Crawford, who was valedictorian of her Illinois high school, La Roche-Posay's Melt-In Sunscreen Milk is an overachiever. While other sunscreens are getting dinged for not living up to their stated SPF potential, this one has earned a perfect score from Consumer Reports not just once, but five years in a row. But how does it rate on spreadability, texture, and feel? Here's what four people thought of this perfectly rated sunscreen.
Erica Smith, Beauty Writer
I get why this is called "melt-in sunscreen milk." The "milk" did indeed "melt" into my skin quite quickly and in a fast-absorbing manner, as promised. As a person of color who is used to rubbing in sunscreens for five minutes only to be left with a weird, purple-white cast all over my skin, I was very happy to see my regular skin tone reemerge only a few seconds after applying this.
I think I'd call the finish "matte" and "kinda smooth" rather than "velvety." But that's fine with me because I'm forever paranoid about the sun and its wrath, and a little texture is a reassuring reminder that yes, I have sunscreen on, and yes, this formula is water-resistant. In short, this has a winning combo of two things: a non-annoying application process and a comfortingly high SPF. I'd gladly slather it on for the rest of the summer.
Aude White, Senior Communications Manager
I liked this sunscreen as much as you can like any sunscreen — sunscreen is one of those things that, while necessary, is also just not that exciting. It's not going to replace the tinted Elta sunscreen I use on my face every day, but I will definitely continue using it on my body when I'm playing softball in the sun for two hours or headed to the beach.
I like that it's SPF 60 and rubs in quickly without leaving white traces all over your skin. It's also not sticky. The only downside is that it's liquid enough that if you open the bottle while it's facing down, it drips onto the floor. Otherwise, it's a perfectly good sunscreen that functions and smells the way sunscreen should.
Daise Bedolla, Social Editor
My family has a history of skin cancer, so sun protection is not something I'm willing to sacrifice on. This La Poche-Rosay sunscreen is a great addition to the already enormous number of bottles I have in my closet at home. It feels super lightweight and blends easily (no aggressive rubbing!). The one thing I don't like about it is the smell. It has that quintessential sunscreen scent that immediately brings back memories of days at the local YMCA.
My current sunscreen, La Prairie's Protection Veil Sunscreen SPF 50, smells elegant and not all like a sunscreen. Frankly that's what I want from all my sun protection: a way to stay safe without being constantly reminded that the sun is trying to destroy us. I'll keep using the La Poche-Rosay, though. I'll be the pale one slathering it on at the beach under an umbrella.
Kathleen Hou, Beauty Director
I haven't had milk in a hot drink in two years, but I'll slather myself in sunscreen "milk" anyway. "Milk" is a fancy European way to describe sunscreens with a texture that's more fluid and drippy than pastelike. Milks feel more like fancy moisturizers than boring sun shields, and blend more easily into the skin.
This "milk" gets three stars from me. I love that it disappears into my skin with just a little bit of light rubbing and no gray or white cast or sparkle. Since it spreads so easily, applying it to my legs doesn't feel like cardio. It's also very creamy in texture, so I feel like there are additional skin-care benefits, too. I would use this more for the body than the face, since I'm a little worried that the oiliness would break me out. But all in all, this sunscreen is a pleasure to wear.
If you buy something through our links, New York may earn an affiliate commission.